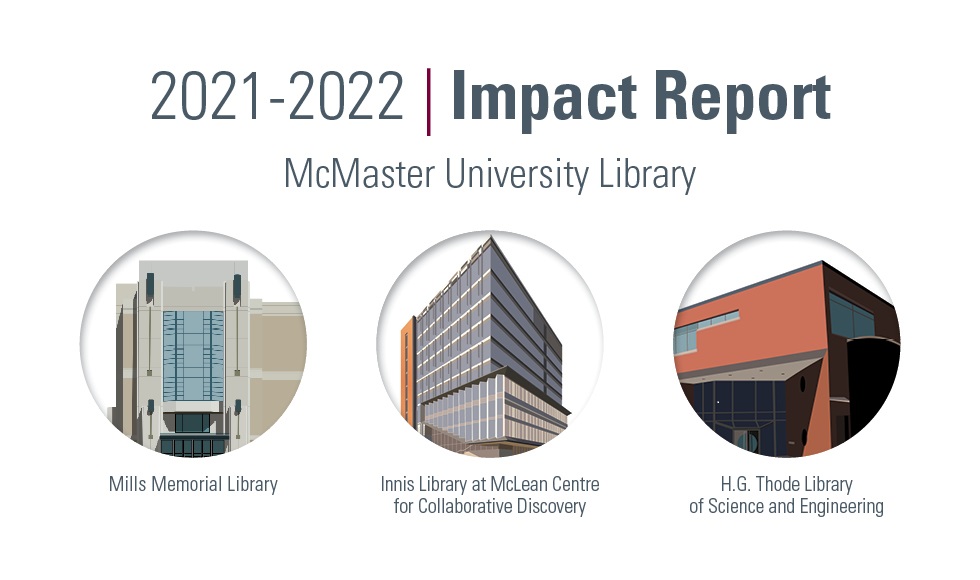 McMaster University Library's inaugural impact report is now available.
The 2021-22 impact report offers readers an inside look at the University library's strategic work during the past year, through stories of innovative learning solutions, remarkable research support and meaningful outreach initiatives.
"I am excited to share this special report," said Vivian Lewis, McMaster University Librarian. "This is an opportunity for everyone, from members of the McMaster community to our donors, to learn more about the work of our team amid the many obstacles of the pandemic." 
Like many of its campus partners, the University library faced extraordinary challenges during the past year.
The 2021 fall term marked the reopening of the library's physical spaces, requiring library staff and users to adjust to a new, temporary normal with masking, physical distancing in specific areas and evolving hours.
Despite these challenges, the University library continued to make steady progress toward its strategic goals, strengthened by new opportunities like hybrid work.
According to Lewis, the success stories shared in this inaugural report are a testament to the hard work of library staff and the support of University leadership.
"I encourage our community to read through the pages of this report to learn how, even during a pandemic, we delivered innovative services, welcoming spaces and exemplary collections to accelerate research, enhance learning and improve the user experience," Lewis said.  
Learn more on the webpage for the McMaster University Library 2021-22 Impact Report.
Print copies of the report are also available. Please email the library's communications office to receive your copy.