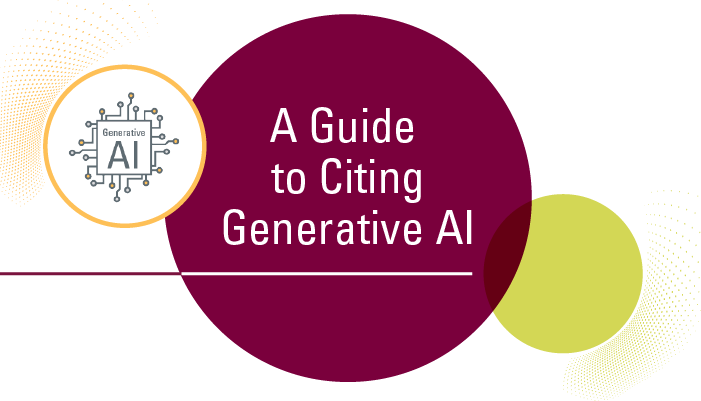 A new digital guide from McMaster University Library is helping students, instructors, and researchers at the university cite generative artificial intelligence (AI) content.
The free resource developed by McMaster librarians Ines Perkovic and Sarah Cairns is intended to supplement a set of provisional guidelines released by McMaster's Task Force on Generative AI in Teaching and Learning over the summer. The guidelines offer instructors a starting point for understanding the potential uses of generative AI in the classroom.
"Citation questions are one of the most frequent inquiries that the library receives from students, so it was a natural fit for us to prepare a resource to support students who choose to use generative AI as permitted in their course," said Perkovic, business librarian at McMaster University Library. "It was developed with students in mind, but it can be used by researchers, faculty, and anyone else looking for guidance on citing generative AI content."
Appended in McMaster's provisional guidelines on the use of generative AI in teaching and learning, How Do I Cite Generative AI? provides instructions for referencing AI generated text and images in the most common citation styles including APA, MLA, Chicago, and IEEE. It also provides a brief overview of generative AI, indicates its common capabilities and limitations in academia, and offers a list of supplemental resources.
Cairns, former interim graduate studies librarian at McMaster University Library, says the guide helps students avoid missteps and miscommunication while upholding academic transparency.
"I think students want to maintain academic integrity in their work, so having clear answers to their citation questions helps relieve the anxiety that already exists during this process," said Cairns. "We hope that this guide, like our other citation style guides, enables students to focus more attention on their learning and research, and less on the ambiguity surrounding citations."
Given the novelty of generative AI in teaching and learning, Cairns says the team focused on outlining and interpreting best practices for citing AI outputs as they currently know them to be.
"We developed the resource using initial guidance established by the official style guide editorial teams and tailored it to include examples that are most relevant to our students," said Cairns. "We continue to update the resource as new guidance is released."
In addition to supporting students, Erin Aspenlieder, associate director of central programming at the MacPherson Institute, says the guide offers value to the McMaster teaching community.
"We have received many questions from educators across campus regarding how to help students understand when and how to cite generative AI, and this resource has served as a fantastic tool to share with them," said Aspenlieder.
How to access the guide
How Do I Cite Generative AI? is openly available on the McMaster Research Guides website. Comments and suggestions are welcome using the feedback form available within the guide.
For citation and other information related inquiries, please contact the library's Teaching and Learning Department at liblearn@mcmaster.ca.
Helpful links
McMaster instructors looking for support and resources surrounding the use of AI in teaching and learning can contact the MacPherson Institute at mi@mcmaster.ca.
Learn more by visiting the webpage for Provisional Guidelines: The Use of Generative Artificial Intelligence (AI) in Teaching and Learning at McMaster University - Academic Excellence - Office of the Provost.