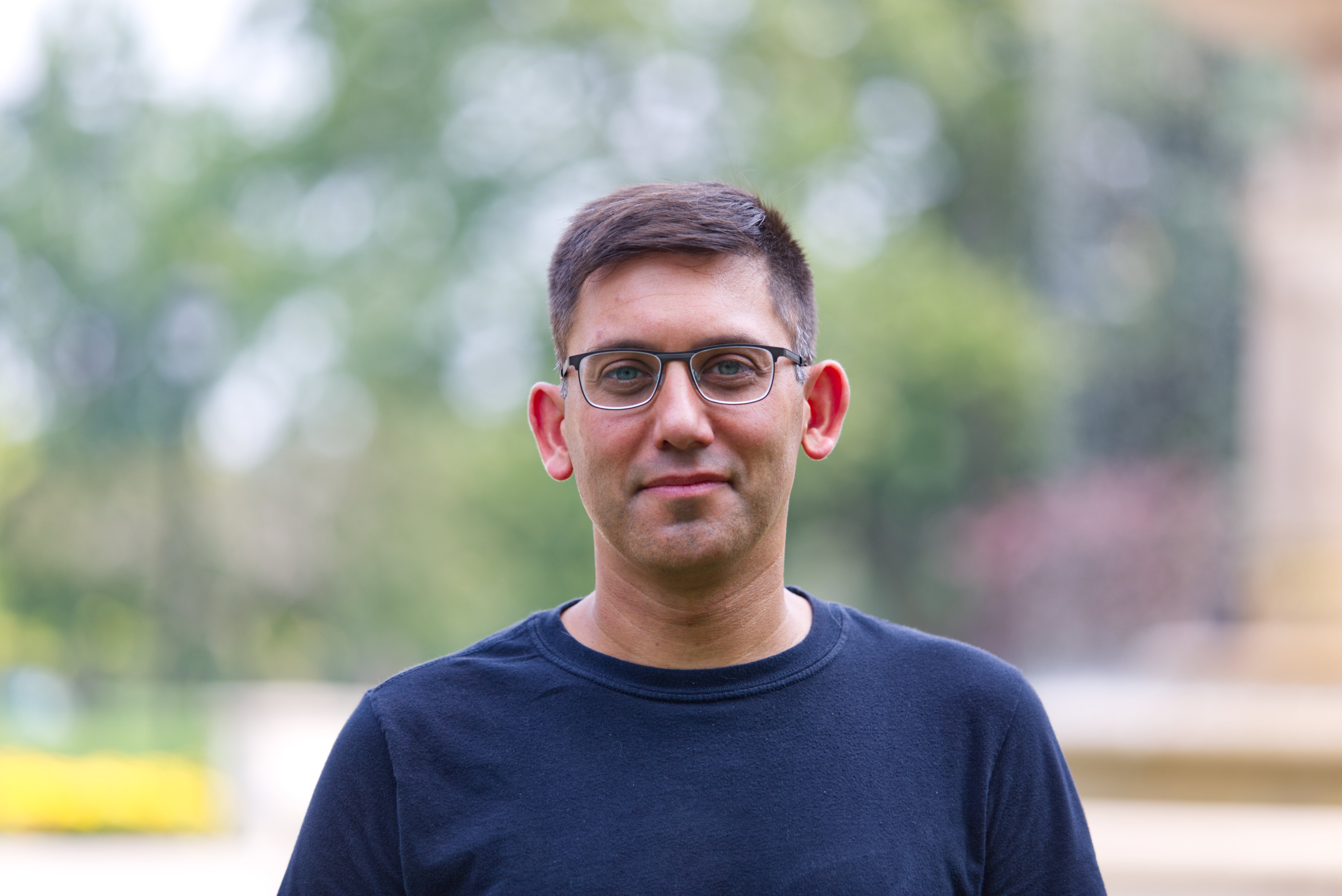 Pasha Malla has called east Hamilton home for the past six years and says he can't imagine living anywhere else.
The friendly residents, lush greenspace and bustling streets have fostered an environment unlike any city he has lived prior.
Malla has become a fixture in Gage Park, where he can often be found walking with his best friend, a gregarious rescue dog named Bobby.
While he admits that Bobby is more famous locally than he or his partner, Vanessa, what many passersby may not know is that Malla is also an accomplished author.
"Living in Hamilton has influenced my work in that I'm generally in a state of contentment," he said. "There's a front porch culture here that I haven't found anywhere else I've lived. This helps ground me and I can work feeling comfortable. Comfort is really important to me as a writer."
Starting this fall, Malla will be connecting with local writers as the 2021-22 Mabel Pugh Taylor Writer in Residence. The program is led by McMaster University's Department of English and Cultural Studies of the Faculty of Humanities in partnership with McMaster University Library and Hamilton Public Library. It is supported by the Taylor family.
"I'm very excited about this residency, especially the fact it is based in Hamilton," said Malla. "I like meeting people from the community and working with them on their writing. There are very few spaces in society that value reading and writing, so I find residency programs like this extremely beneficial."
Malla is the creative force behind seven works of poetry and fiction, including the story collection The Withdrawal Method and the novel People Park. His latest book, published earlier this year, is the absurdist horror-fantasy, Kill the Mall.
His fiction has won the Danuta Gleed Literary Award, the Trillium Book Award, an Arthur Ellis Award and several National Magazine Awards. His writing has also been shortlisted for both the Amazon Canada Best First Novel Award and the Commonwealth Book Prize and longlisted for the Scotiabank Giller Prize and the International Dublin Literary Award.
He has served as a writing instructor and thesis supervisor since 2009 at a number of post-secondary institutions, including York University and the University of Toronto.
"My goal as a mentor is to try to help writers take their work to the next level, whatever that may be," he said.
Malla was born in St. John's, Nfld. but spent his formative years in London, Ont. His father is a native of Kashmir, while his mother hails from Great Britain.
The family frequented the nearby London public library branch which became a second home to Malla. He says he knew early on that writing would be an important part of his life.
"When I was five years old, I told my mom that I either wanted to be an astronaut, in a motorcycle gang or an author," he said. "I'm not very good at math, so astronaut was out; I'm not very tough, so I couldn't be a biker, so I guess I defaulted to be a writer. In some way, I'm fulfilling my childhood goal."
Every year, the Mabel Pugh Taylor Writer in Residence program invites a well-published Canadian author to work at the Hamilton Public Library and on McMaster's main campus to mentor creative writers from the university and the Hamilton community.
Malla plans to host events focused on the business of writing, as well as facilitate workshops on various aspects of the craft of fiction. Due to the pandemic, his consultations with writers will be held virtually at this time.
"The opportunity to connect with the broader community is something that I am enthusiastic about," he said. "The only prerequisites I have for writers is to be curious and that they see there is space for mentorship in their work. I'm not worried about skill, but rather am seeking any writer who is passionate about what they do."
To book a virtual meeting with Malla, sign up online.
Quotable
"I have followed the writers selected for the writer in residence program each year with great interest, always reading a sample of their work, and have never yet been disappointed. I am unfamiliar with the works of Pasha Malla but have just acquired my own copy of Kill the Mall and am now looking forward to reading it. "
Nancy Taylor, daughter of Mabel Pugh Taylor
"The Mabel Pugh Taylor Writer in Residence program is delighted to feature the work and mentorship of Pasha Malla, a writer who lives in our city, for the 2021-2022 year. Hamilton enjoys a lively ferment of creative writing, and we are pleased to continue to foster this creativity in our midst by connecting emerging writers with those, like Pasha, who have years of experience and success in the field."
Daniel Coleman, professor, Department of English and Cultural Studies, McMaster University
"The past year-and-a-half has reminded us of the importance of the arts, especially literature and writing, in both informing and entertaining. This residency, led by local author Pasha Malla, will foster this important outlet in our city over the coming year. We are excited to see the creative work supported by Pasha's mentorship."
Vivian Lewis, McMaster University Librarian
"The annual writer in residence program is a long-standing community-building effort that supports Hamilton's many emerging and established authors and writers. This ongoing partnership with McMaster University ensures Hamilton continues to thrive as an arts and culture centre. We look forward to Pasha's residence and reading the many great works that this program supports and develops."
Paul Takala, CEO and Chief Librarian, Hamilton Public Library