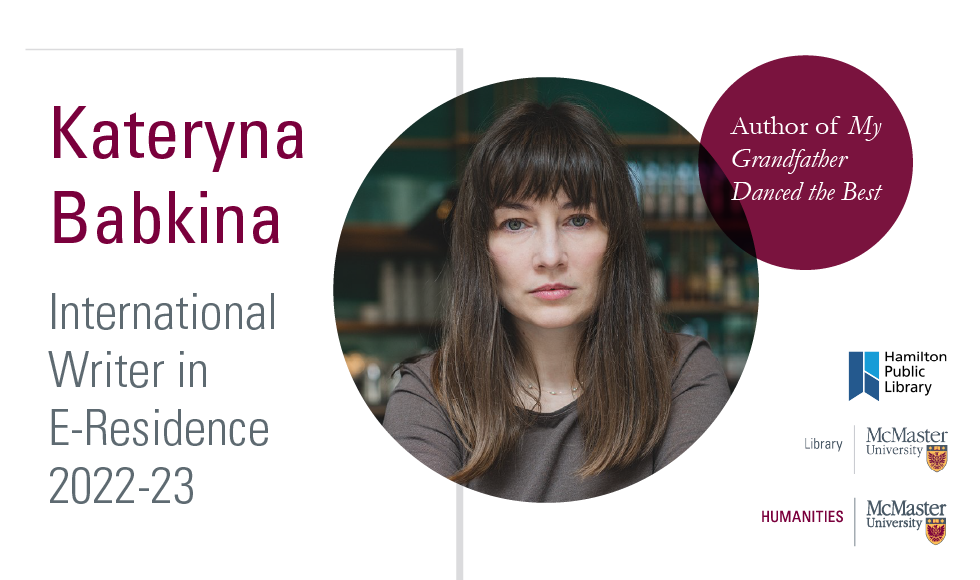 By Kaleigh Wisman, Faculty of Humanities
Even though her world has been turned upside down, Kateryna Babkina keeps writing.
As an accomplished Ukrainian writer currently living in exile, she continues to write not only to earn a living and shed light on the war in her home country, but also to maintain this part of her identity when so many aspects of her life have changed.
"When you are able to do what you used to do before the war, it's better for you psychologically," Babkina said.
Over the next six months, Babkina will be the 2022-2023 International Writer in E-Residence—a new program that has been funded by the McMaster Provost, McMaster Library, Hamilton Public Library and Faculty of Humanities.
Babkina is looking forward to stepping into this role and working alongside Hamilton-based Amanda Leduc who is the Mabel Pugh Taylor Writer in Residence for 2022-23.
"We wanted to help a writer during a time of displacement because of the war," said Daniel Coleman, professor of English and Cultural Studies who oversees the writers in residence program. "We felt that such a writer would have lots to offer the McMaster and Hamilton writing communities both as an observer of the war as well a writer who looks at the big picture about violence and disruption of this scale."
Having published her first book at 17 years old, Babkina is a seasoned poet, prose writer, columnist, screenwriter and playwright whose work has been translated into multiple languages and published internationally.
She is the author of four poetry collections (Lights of Saint Elm, 2002, The Mustard, 2011, Painkillers and Sleeping pills, 2014, Charmed for Love, 2017, Does not hurt, 2021), a novel (Sonia, 2013), a novel in short stories (My Grandfather Danced the Best, 2019) and two collections of stories (Lilu after you, 2008 and Happy naked people, 2016). She has also written four books for kids (The Pumpkin year, The Hat and the Whale, The Snowheat and Girls Power (co-authored with Mark Livin), which are extremely popular in Ukraine. In 2021, she won the Angelus Central European Literature Award.
While some of her past work has touched on the themes of war, nothing has impacted her and her writing more directly than Russia's invasion of Ukraine.
In March of this year, Babkina fled her home in Kyiv with her young daughter and mother leaving behind life as she knew it. She recently set up a temporary home base in London, UK where she will be living for the duration of the residency while working remotely.
"The interesting thing about this residency is that I will be able to work and consult not only with the McMaster and Hamilton writing community, but also with people from local Ukrainian communities," Babkina says. "Some people may not be fluent in English or would like to work on their writing in Ukrainian, so that's something we can do."
Although Babkina's work will not be entirely focused on the war in Ukraine, she anticipates that the subject will be present within all aspects of her residency.
"It's just part of my life now," she said. "My current projects and books will definitely talk about this, and connecting with the Ukrainian community, I'm sure there are people who are in the same situation as I am and willing to write about that."
During her residency, Babkina will be working on several projects including her first novel for young adults and a screenplay—both of which feature young female characters who are navigating life as refugees after fleeing the war in Ukraine.
In addition to being afforded the time to work on these projects, Babkina is looking forward to stepping into a mentorship role for up-and-coming writers. With years of teaching experience, including her time as a 2018 resident at the International Writing Program at the University of Iowa, she knows the impact that personal writing consultations can have for both the mentor and the mentee.
"For me, a mentorship opportunity like this provides the feeling of belonging and the joy of participating in someone else's progress," she said. "Somebody benefits from what you can do, which is a very healthy and inspiring feeling."
In addition to the one-on-one virtual consultations she will offer during her residency, Babkina will also give readings and offer workshops on topics including inspiration—something that emerging writers ask her about frequently.
"Inspiration is actually something quite well-studied—it's not just magic," she said. "There are certain habits you can develop to make your life more inspiration filled."
The details of these events will be added to the website as they are confirmed, including how to connect with Babkina for writing consultations.
Book a consultation
For more information about both of this year's writers in residence, Amanda Leduc and Kateryna Babkina, as well as information on how to book a writing consultation, please visit the McMaster's writer in residence webpage.
Workshops
Babkina will be hosting four virtual workshops, "On Inspiration", on the following dates:
Tuesday, September 20 at 3 p.m.
Tuesday, October 18 at 3 p.m.
Tuesday, November 8 at 3 p.m.
Tuesday, November 29 at 3 p.m.
Details will be shared on the McMaster University Library website and Hamilton Public Library website as soon as they are available.
Welcome reception
A reception celebrating both of this year's writers will be held on Thursday, Sept. 15 from 6:30-8 p.m. on the 4th floor of Central Library, 55 York Blvd., Hamilton. Amanda Leduc, the 2022-23 Mabel Pugh Taylor Writer in Residence, will be at the event to meet community members. A special video message from Kateryna Babkina, the 2022-23 Writer in E-Residence will also be shared. This event is open to the general public. Light refreshments will be served. For more information, visit www.hpl.ca/writer-residence.