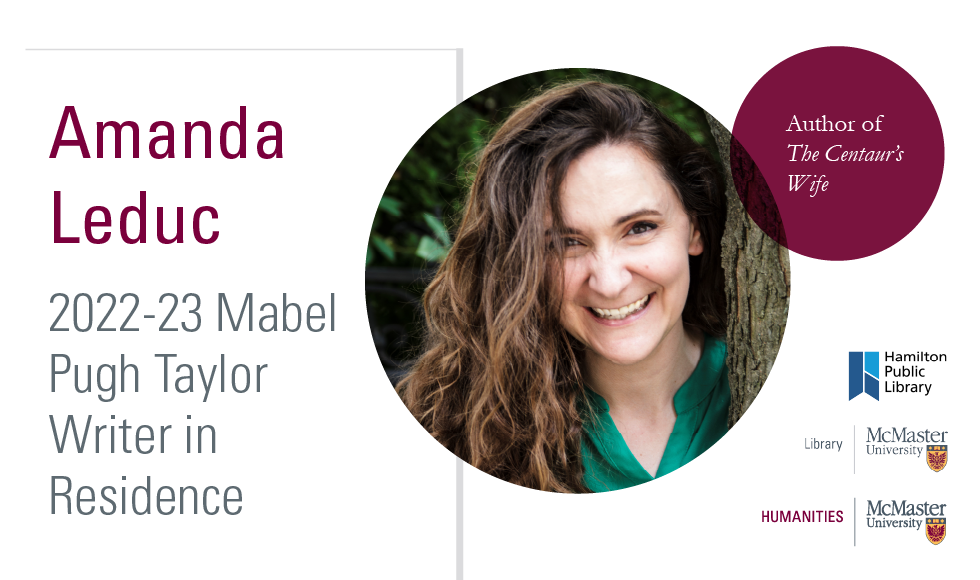 Amanda Leduc recalls the impact mentorship had on her writing and is now looking to do the same for others.
Leduc is the incoming Mabel Pugh Taylor Writer in Residence which sees an established Canadian author mentor creative writers from the Hamilton community.
She says she is excited to work with all types of writers during her residency.
"It is rewarding to be in a position where I can give back to the community and hopefully offer some good advice to writers who are starting out or looking for someone to review their work," she said.
Leduc is a disabled writer and author of the non-fiction book, Disfigured: On Fairy Tales, Disability, and Making Space, which was shortlisted for a 2020 Governor General's Literary Award and longlisted for the 2020 Barbellion Prize. She is also the author of the novels The Miracles of Ordinary Men and most recently, The Centaur's Wife. She has another novel set to debut in spring 2024, titled Wild Life, and is working on three other writing projects.
"I'm excited that this residency allows me to connect with local writers, as well as focus on my own writing projects," she said. "It really is the best of both worlds."
Leduc's essays and stories have appeared across Canada, the United States, the United Kingdom, and Australia. She speaks regularly across North America on accessibility and the role of disability in storytelling.
She says the presentation of disability in storytelling, and its amplification by Hollywood, is in dire need of change. She cites children's fairy tales through to Marvel and Bond movies as examples, where villains are often disfigured or are disabled.
"This type of presentation sends a very clear message, certainly to people who are themselves disabled, that they have a life that nobody would want if they had a choice," she said. "What it does in our society on a larger scale is breeds an aversion to disability and the continuation of the physical construction of a world that was not built for those who have disabilities.
"What I want to do is shift thinking and perception so that everyone realizes we have a great deal of power in how we structure the world around us."
Born in British Columbia and raised in Hamilton, Ontario, Leduc has also lived in England and Scotland. She holds a master's degree in creative writing from the University of St. Andrews.
Leduc has cerebral palsy and makes her home in Hamilton. She lives with a very lovable, very destructive dog and serves as the communications and development coordinator for the Festival of Literary Diversity (FOLD), Canada's first festival for diverse authors and stories.
She says her hometown has influenced her writing, albeit indirectly.
"I tend to write strange, speculative fiction so I have yet to set a novel in Hamilton," she said. "However, the interplay of the natural world and human world, especially when you think about the beauty of the city juxtaposed to its industrial roots, has definitely woven its way into my work."
The Mabel Pugh Taylor Writer in Residence program is led by McMaster University's Department of English and Cultural Studies of the Faculty of Humanities in partnership with McMaster University Library and Hamilton Public Library. It is supported by the Taylor family.
Office hours: September to December 2022
Mondays
Virtual by appointment
9 a.m. to 5 p.m.
Fridays @ McMaster University
In-person by appointment
9 a.m. to 5 p.m.
Email englwir@mcmaster.ca to schedule an appointment
Office hours: January to April 2023
Mondays
Virtual by appointment
9 a.m. to 5 p.m.
Fridays @ Hamilton Public Library
In-person by appointment
9 a.m. to 5 p.m.
Email englwir@mcmaster.ca to schedule an appointment  
Writer in residence launch event
A reception celebrating both of this year's writers will be held on Thursday, Sept. 15 from 6:30-8 p.m. on the 4th floor of Central Library, 55 York Blvd., Hamilton. Amanda Leduc, the 2022-23 Mabel Pugh Taylor Writer in Residence, will be at the event to meet community members. A special video message from Kateryna Babkina, the 2022-23 International Writer in E-Residence will also be shared. This event is open to the general public. Light refreshments will be served. For more information, visit www.hpl.ca/writer-residence. 
Virtual workshops: Fall 2022 and winter 2023
Leduc plans to host two virtual workshops during her residency, including one in the fall and another in the winter. Details will be shared on the McMaster University Library website and Hamilton Public Library website as soon as they are available.
Helpful links