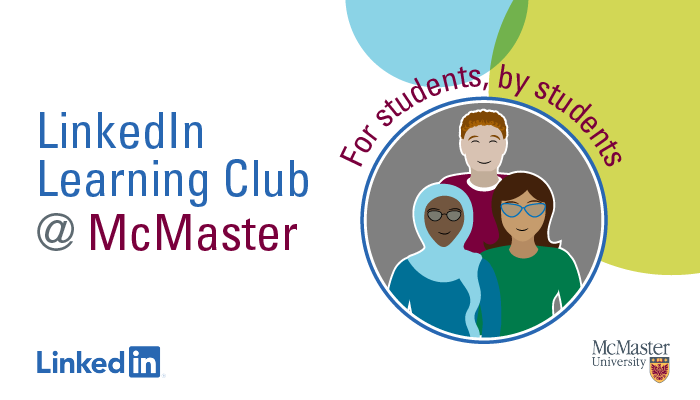 With the fall term around the corner, the LinkedIn Learning Club @ McMaster is helping to ensure students are set up for academic success.
During August and September, McMaster University students using their free LinkedIn Learning accounts will have access to a collection of video courses that offer helpful tips for improving performance and supporting personal well-being in academic and professional settings.
The campaign, entitled McMaster's Declassified School Survival Guide, was created by Matt Aksamit, a McMaster student and LinkedIn Learning ambassador.
"Looking back on my first year of university, I remember how much I struggled to manage things like burnout and academic exhaustion," said Aksamit, an English and cultural studies student. "I curated this collection to highlight the skills and techniques students can employ to achieve their academic goals while still managing their personal well-being."
The selection of free courses covers topics from overcoming perfectionism and managing self-doubt to improving focus and boosting productivity. Each course in the collection requires less than one hour to complete.
While the campaign was created with first year students in mind, the content offers meaningful advice that is helpful for students at all levels, says Jeannie An, LinkedIn Learning campus coordinator and Ron Joyce Centre research services librarian.
"It's never too late in your post-secondary education to start implementing techniques that increase productivity and reduce stress," said An. "We encourage all students to explore the collection's offerings and complete the courses they think will be most valuable to them."
To access this month's LinkedIn Learning Club content, McMaster students can click the LinkedIn Learning Club banner on their LinkedIn Learning homepage or search for it by title in the search bar. Alternately, users can find the content at this LinkedIn Learning link.
McMaster staff and faculty are reminded they also have free, unlimited access to LinkedIn Learning for personal, professional, and instructional purposes. To learn more about LinkedIn Learning, visit the McMaster website for LinkedIn Learning. 
Have a monthly theme you'd like to suggest for LinkedIn Learning Club @ McMaster or have a question? Send an email to the McMaster library LinkedIn Learning team.
The LinkedIn Learning Club @ McMaster features monthly content chosen by students for students that aligns with topics that are meaningful to them. The idea is intended to encourage McMaster students to take advantage of free, unlimited usage of their LinkedIn Learning accounts with content curated by their peers.