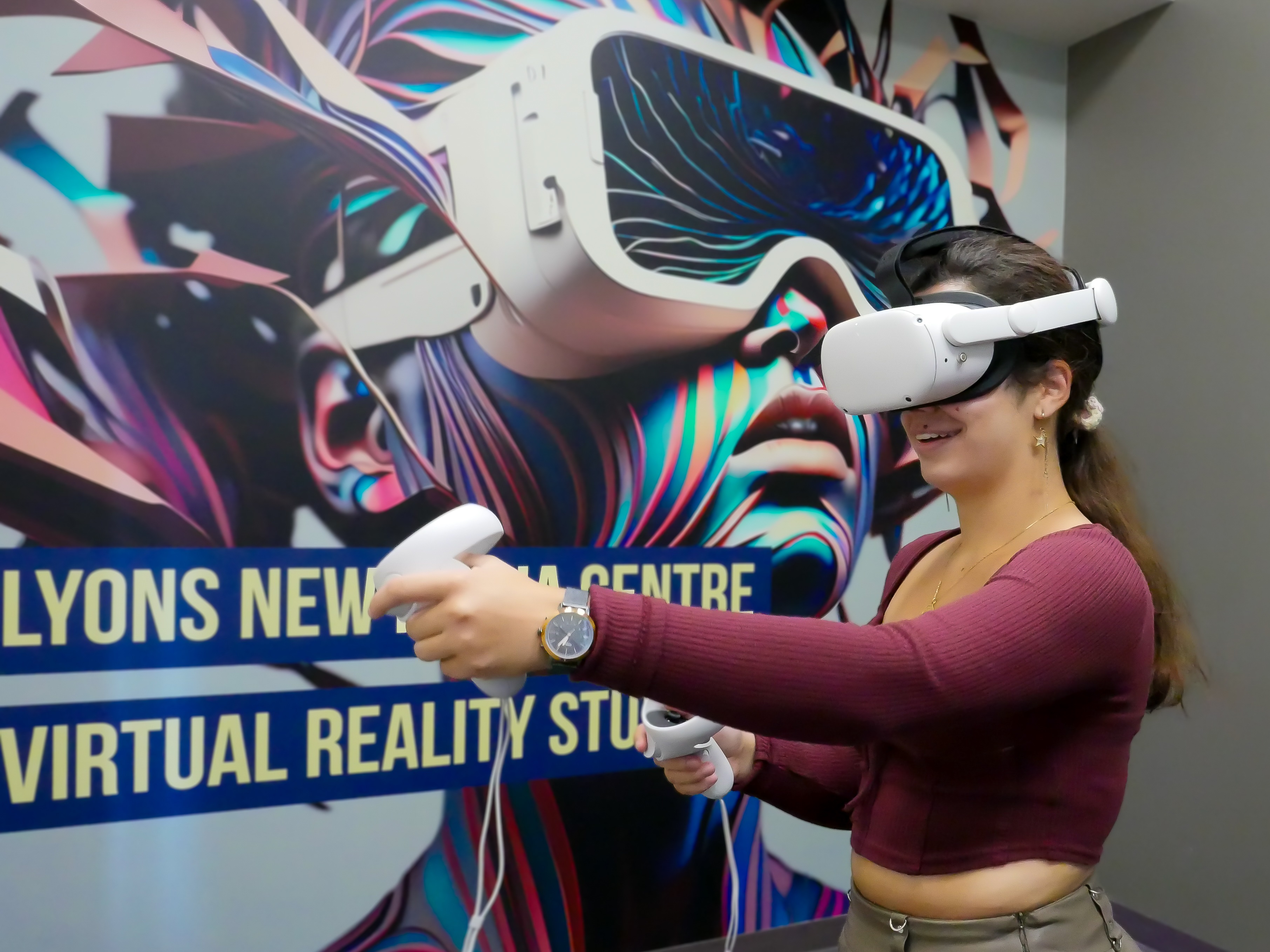 Lyons New Media Centre is expanding its offerings this fall with two new spaces for the McMaster community to learn and create.
Earlier this month, the group podcast studio opened for online reservations for McMaster students, faculty, and staff, and the virtual reality room is set to open in the coming weeks. The fresh additions complement the centre's existing lineup of media services and spaces.
"Our team is constantly evaluating the evolving trends in media and technology, and assessing how we can incorporate those trends into our services," said Rhonda Moore, manager of Lyons. "We're thrilled to offer our campus community two new spaces to explore their creative side and discover unconventional ways of learning through modern technology."
The anticipated virtual reality room offers two Meta Quest headsets and a television for casting live experiences to spectators. Each headset is equipped with a range of educational apps, including Blueplanet VR, which enables users to explore some of the world's most remarkable locations.
Next door to the virtual reality room is Lyons' audio studio, which has expanded to include a large podcast room for group recording sessions.
The private room features a table with chairs for up to four people, four sets of microphones and headphones, a computer equipped with audio editing software, and sound-dampening walls. Users can also make use of the webcam and portable greenscreen for video recording.
Moore says that she hopes the new spaces will facilitate supplemental learning, while also providing the tools to be creative.
"I see great potential for our virtual reality room to be used by faculty across departments as a tool for enhancing teaching," said Moore. "At the same time, we welcome users to access our space for personal projects, as well. That can include recording a podcast with friends or learning a new language through virtual reality."
The group podcast studio and virtual reality room can be reserved online by anyone with a valid Mac ID. Safety training will be required prior to accessing the virtual reality room.
Lyons is located on the fourth floor of Mills Memorial Library.
To learn more about Lyons or to book a media space, visit their webpage.