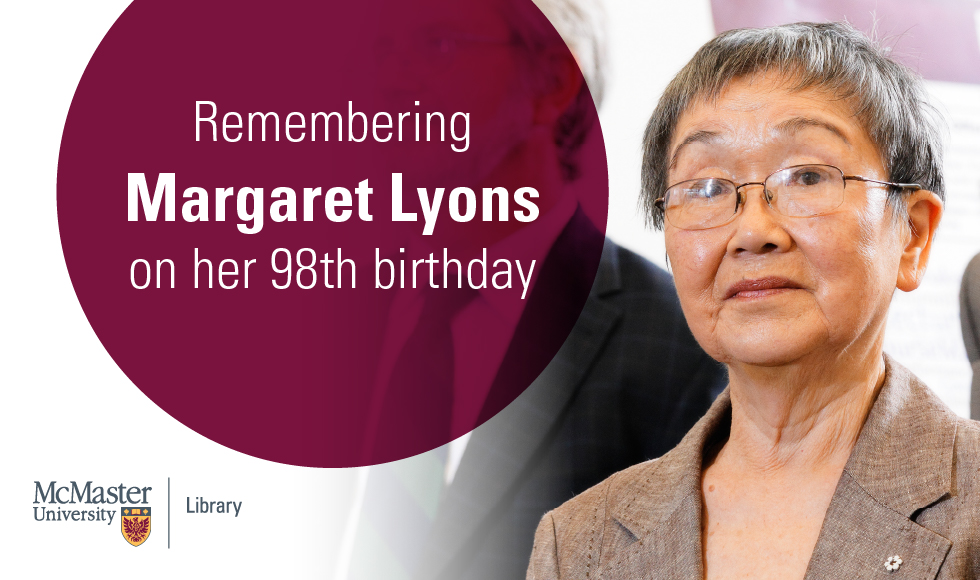 The Lyons New Media Centre is celebrating the birthday of one of its namesakes this week.
Keiko Margaret Lyons (née Inouye; 1923-2019) graduated from McMaster University in 1949 with a degree in political economy — and went on to a four-decade career in broadcast journalism, first with the BBC and then the CBC. Along the way, she broke new ground for women in broadcasting.
Known to many as Margaret, she received an honorary degree from McMaster University in 1996 and was invested as a member of the Order of Canada in 2010.
The Lyons New Media Centre, named for Margaret and Ed Lyons, opened on the fourth floor of Mills Memorial Library in 2010. The vibrant space is available to all members of the McMaster community for the creation and use of modern and classic media in teaching, learning, and research.
We asked Rhonda Moore, manager of Lyons New Media Centre, to talk about Margaret Lyons' legacy, how the centre is marking what would have been her 98th birthday on Nov. 21, and what we can expect from the centre when the winter term arrives.
What impact did Margaret Lyons have on Canadian culture? 
Margaret was credited with saving CBC radio from oblivion. She brought a new standard of journalism to radio in Canada.
If you could describe her achievements in one word, what would it be and why?
Groundbreaking. Margaret paved the way for other women in the broadcasting industry. She played a key role in creating a voice for women, and help moved the industry forward with her energy, stamina, and perseverance.
 What is something people may not know about Margaret Lyons? 
Before becoming a McMaster student in 1945, Margaret worked as a chambermaid in Wallingford Hall.
How are you celebrating her birthday this year?
We were fortunate to be the recipients of some personal items from Margaret's estate. Now that we are back in the library, we have put together a physical display of these items. We are also running a social media campaign highlighting Margaret Lyons and the history of the Lyons New Media Centre.
What is being offered at Lyons New Media Centre during the fall term? 
Adobe Creative Cloud and other media software are available on our computers in the Centre. Our camera equipment is available for booking. We simply ask that users fill out the booking form on our webpage to request cameras and/or tripods. The 3D printing service is a free service available to all McMaster students. Students can submit their print request online, and we will contact them once it is ready. We also have a live chat service on the website, and if more in-depth help is needed, students can schedule a one-on-one consultation with one of our media specialists.
What's new or marking a return at the centre for the winter term? 
We hope the majority of our services will be available in January, but it is yet to be determined. The media production studio (green screen room), games room, and the audio booth may be available to book starting in January. There is a second audio booth being added in Lyons, as well. Keep your eyes on the Lyons social media for updated information on available services and expanded hours.
What is one thing library users may not know about Lyons New Media Centre? 
Lyons is a media space that is available to all students, staff, and faculty on campus. We have a variety of equipment and services to help with media related projects such as video production, podcasting, digital art. We also are happy to meet with instructors to help prepare classes for media projects.
Learn more about the Lyons New Media Centre by visiting their website or sending the team an email.
Find out more about Margaret Lyons by reading this tribute story from Daily News.