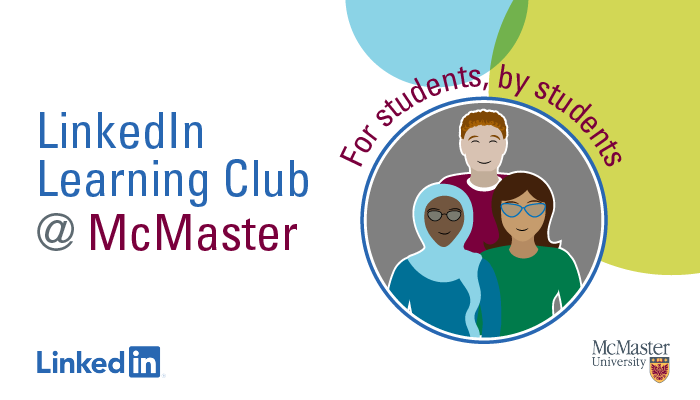 Spending long hours studying but not seeing the results you hoped for? Not to worry. 
The LinkedIn Learning Club @ McMaster is sharing strategies to help you study smarter, not harder, this academic year. 
During November, McMaster University students using their free LinkedIn Learning accounts will have access to a collection of short courses and videos that offer helpful tips for developing effective study habits. 
The campaign, entitled Essential Studying Tips for McMaster Students, was curated by Tanvir Singh, a third-year computer science student and LinkedIn Learning ambassador. 
"This collection was created to support students of all levels through midterms and the upcoming final exam period," said Singh. "It's an especially great resource for first-year students who might be struggling to meet the demands of post-secondary learning." 
Those who access the collection will find strategies for developing a study mindset, learning faster, creating an effective study plan, and more. 
Jeannie An, LinkedIn Learning campus coordinator and Ron Joyce Centre research services librarian, says the campaign offers an opportunity for students to develop healthier study habits, as well. 
"A truly effective study habit is also one that is healthy," said An. "Regardless of whether or not a student is meeting their academic goals, I encourage them to reflect on their current learning strategies to identify areas for improvement. This collection is a good place to start." 
To access this month's LinkedIn Learning Club content, McMaster students can click the LinkedIn Learning Club banner on their LinkedIn Learning homepage or search for it by title in the search bar. Alternately, users can find the content at this LinkedIn Learning link. 
McMaster staff and faculty are reminded they also have free, unlimited access to LinkedIn Learning for personal, professional, and instructional purposes. To learn more about LinkedIn Learning, visit the McMaster website for LinkedIn Learning 
Have a monthly theme you'd like to suggest for LinkedIn Learning Club @ McMaster or have a question? Send an email to the McMaster library LinkedIn Learning team. 
The LinkedIn Learning Club @ McMaster features monthly content chosen by students for students that aligns with topics that are meaningful to them. The idea is intended to encourage McMaster students to take advantage of free, unlimited usage of their LinkedIn Learning accounts with content curated by their peers.