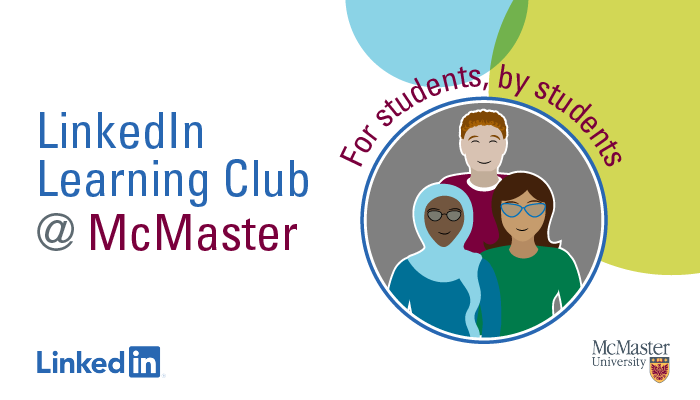 The LinkedIn Learning Club @ McMaster has compiled several introductory programming and data analysis courses for its latest campaign.
Throughout November, McMaster students using their free LinkedIn Learning accounts will have access to a collection of videos covering topics from data visualization to writing code.
This month's selection of beginner-friendly courses was hand-picked by Maggie Chan and Eline Gonzalez, LinkedIn Learning ambassadors and McMaster University students.
"This campaign is a great starting point for students looking to apply concepts related to data analysis and data modelling in programs such as MATLAB and R," said Chan, a fourth-year biology and environmental sciences student. "There are also courses that cover the basics of common programming languages like Java and Python."
Jeannie An, McMaster LinkedIn Learning campus coordinator and Ron Joyce Centre research services librarian, added: "While the collection is tailored to beginners, it's also great for students who may be looking for a refresher on a particular program or topic."
To access this month's LinkedIn Learning Club content, McMaster students can click the LinkedIn Learning Club banner on their LinkedIn Learning homepage, or search for the title in the search bar. Alternately, users can find the content at this LinkedIn Learning link.
McMaster staff and faculty are reminded they also have free, unlimited access to LinkedIn Learning for personal, professional, and instructional purposes. To learn more about McMaster LinkedIn Learning, visit the website for LinkedIn Learning. 
Have a monthly theme you'd like to suggest for LinkedIn Learning Club @ McMaster or have a question? Send an email to the McMaster library LinkedIn Learning team.
The new LinkedIn Learning Club @ McMaster features monthly content chosen by students for students that aligns with topics that are meaningful to them. The idea is intended to encourage McMaster students to take advantage of free, unlimited usage of their LinkedIn Learning accounts with content curated by their peers.