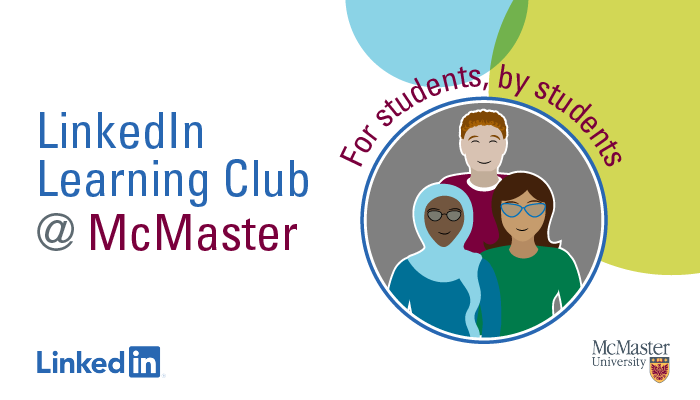 What is the difference between equity and equality? How can I acknowledge my own privilege? What does it mean to be an ally?
LinkedIn Learning Club @ McMaster launches a new campaign for the month of June exploring the important topic of diversity, equity, and inclusion (DEI) through a collection of hand-picked videos.
This month's offerings were selected by Eline Gonzalez, a fourth-year bachelor of science student and LinkedIn Learning ambassador, and reviewed by the Equity and Inclusion Office at McMaster.
"This collection of videos offers students a great introduction to the DEI framework," said Gonzalez. "After completing the collection, students will be able to define important DEI concepts, recognize privilege within themselves and others, and understand how to be an ally for marginalized peers."
Jeannie An, McMaster LinkedIn Learning campus coordinator and Ron Joyce Centre research services librarian, says that DEI training is an integral component to fostering a more inclusive environment on campus.
"We've chosen to launch this campaign now so that students can have a strong grasp on DEI ahead of their return to campus this fall," said An.
To access this month's LinkedIn Learning Club content, McMaster students can click the LinkedIn Learning Club banner on their LinkedIn Learning homepage, or search for it by title in the search bar. Alternately, users can find the content at this LinkedIn Learning link.
McMaster staff and faculty are reminded they also have free, unlimited access to LinkedIn Learning for personal, professional, and instructional purposes. To learn more about McMaster LinkedIn Learning, visit the website for LinkedIn Learning. 
Have a monthly theme you'd like to suggest for LinkedIn Learning Club @ McMaster or have a question? Send an email to the McMaster library LinkedIn Learning team.
The new LinkedIn Learning Club @ McMaster features monthly content chosen by students for students that aligns with topics that are meaningful to them. The idea is intended to encourage McMaster students to take advantage of free, unlimited usage of their LinkedIn Learning accounts with content curated by their peers.