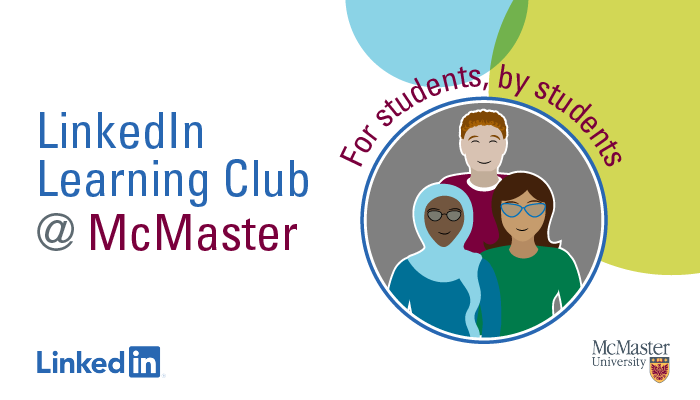 Interested in learning new time-management skills? Need a few tips on presenting with confidence or nailing a first impression? Seeking ideas on impressing that hiring manager?
Just in time for the summer and convocation, the LinkedIn Learning Club @ McMaster debuts with a series of videos focused on interview preparation for McMaster students.
This month's offerings have been selected by Maleeka Munroe, a master of science student, and Eline Gonzalez, a third-year bachelor of science student, who are LinkedIn Learning ambassadors at McMaster.
"We know that now is the time when students begin to look for summer jobs and research internships," said Munroe. "It can be a daunting process, which is why we've created this collection."
Among the topics included in the assortment of videos address what it takes to make a good first impression, how to answer common interview questions, and when to follow-up with your interviewer.
Gonzalez added: "The collection offers a great foundation for students to prepare for a successful hiring process."
The new LinkedIn Learning Club @ McMaster features monthly content chosen by students for students that aligns with topics that are meaningful to them. The idea is intended to encourage McMaster students to take advantage of free, unlimited usage of their LinkedIn Learning accounts with content curated by their peers.
"LinkedIn Learning has thousands of online courses, which can be overwhelming at times," said Jeannie An, McMaster LinkedIn Learning campus coordinator and Ron Joyce Centre research services librarian. "The goal of LinkedIn Learning Club @ McMaster is to curate this content for McMaster students in a way that's easy for them to consume. There's no membership form or fee – every McMaster student can access the online content in this fun campus initiative."
To access this month's LinkedIn Learning Club content, McMaster students can click the LinkedIn Learning Club banner on their LinkedIn Learning homepage, or search for it by title in the search bar. Alternately, users can find the content at this LinkedIn Learning link.
McMaster staff and faculty are reminded they also have free, unlimited access to LinkedIn Learning for personal, professional, and instructional purposes. To learn more about McMaster LinkedIn Learning, visit the website for LinkedIn Learning. 
Have a monthly theme you'd like to suggest for LinkedIn Learning Club @ McMaster or have a question? Send an email to the McMaster library LinkedIn Learning team.