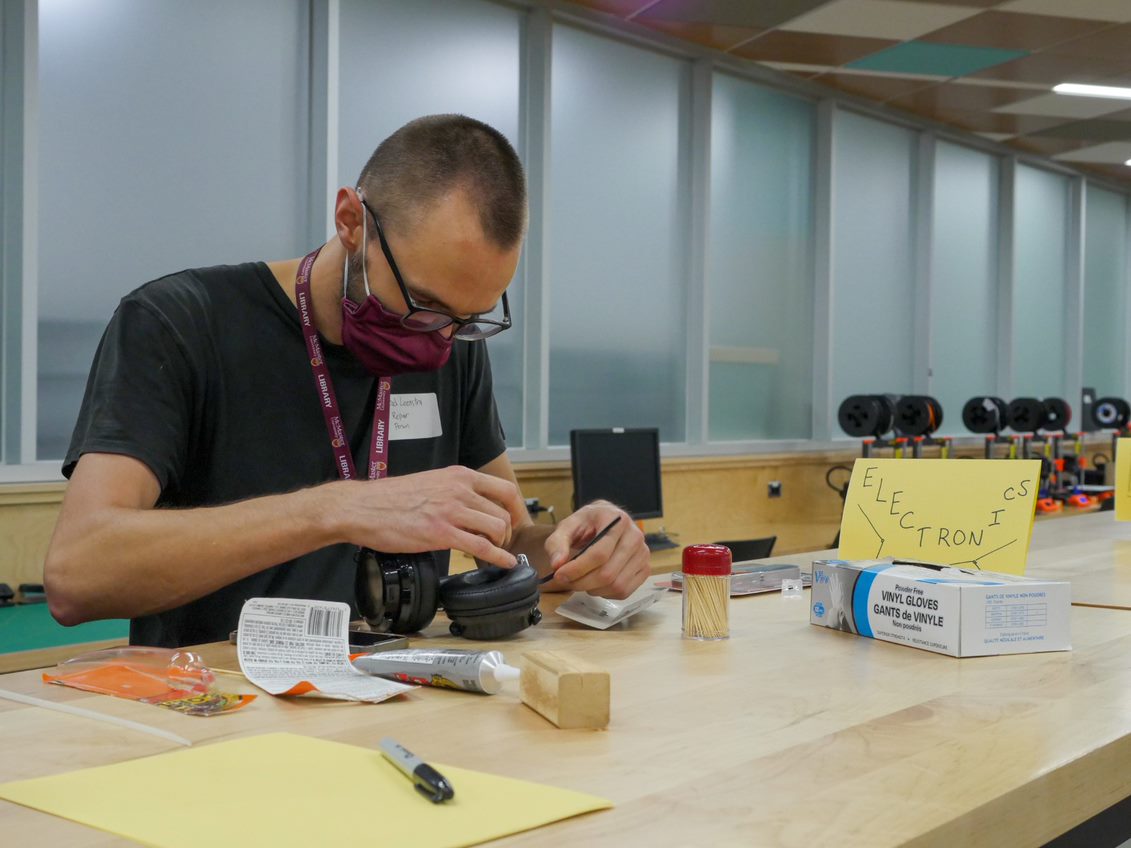 Did you lose a button off your favourite sweater? Is the zipper busted on your backpack? Are your headphones a fashion accessory only?
If so, bring your damaged or broken items to the Thode Makerspace Repair Café.
Created through a partnership between the McMaster Library Sustainability Committee and Thode Makerspace, the Thode Makerspace Repair Café series invites the McMaster community to stop by monthly for an opportunity to repair a selection of personal items, all while socializing with others.
"We hosted our first repair café in 2020 and it was a positive experience for all involved," said Sarah Cairns, co-chair of the Library Sustainability Committee and learning support librarian at McMaster library.
"Now that Thode Makerspace has reopened, we wanted to bring back this in-person series as a way to boost sustainability practices on campus, support collaborative skill-sharing, and encourage students, faculty, and staff across the McMaster community to visit and enjoy use of this uniquely multidisciplinary space."
The repair café concept is a decades-long, global initiative that seeks to resist throw-away economy by empowering people to repair their broken items instead of getting rid of them.
Thanks to support from the McMaster Okanagan Special Project Fund, the Library Sustainability Committee has scheduled a series of repair cafés for the 2022-23 academic year. The first event of the series took place on Sept. 28, 2022.
All McMaster community members can attend the events on a walk-in basis to repair a selection of personal items using the tools available in Thode Makerspace, along with additional repair materials provided by the sustainability committee.
Repair volunteers are available at each event to support attendees with their repair needs. To sign-up as a volunteer, submit a repair café volunteer form.
Volunteers and visitors to the repair cafés are required to complete the Thode Makerspace Training and Community course on Avenue to Learn before attending.
Thode Makerspace is located on the lower level of the H.G. Thode Library of Science and Engineering.
Fall 2022 repair cafés
Nov. 30, 2022 | 2-6 p.m.
Winter 2022 repair cafés
Jan. 25, 2023 | 2-6 p.m.
March 29, 2023 | 2-6 p.m.
April 26, 2023 | 2-6 p.m.