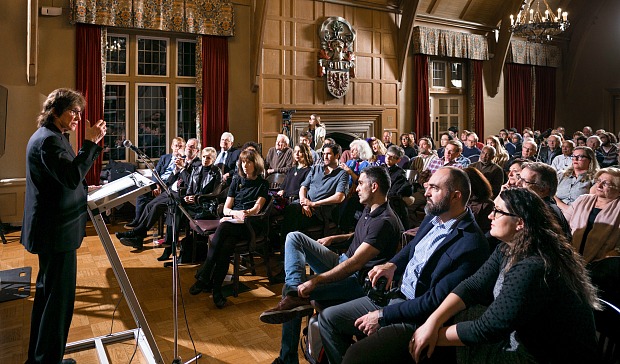 "Collective opposition is no longer an option, it's a necessity."
This was the impassioned call-to-action made by Henry Giroux, director of the McMaster Centre for Scholarship in the Public Interest and Professor in McMaster's Department of English and Cultural Studies.
He made the comments during a recent lecture in which he described what he calls the "vindictive chaos" of politics in the United States, comparing Trump's America to the dystopian worlds of George Orwell's 1984 and Aldous Huxley's Brave New World.
"The body of democracy is on life support and the wounds now being inflicted upon it are alarming. This certainly raises questions about what role educational institutions should take in the face of impending tyranny," says Giroux. "At the heart of such efforts is the question of what education should accomplish in a democracy under siege."
The talk was part of a special event hosted by McMaster University Library in celebration of Giroux, who recently donated his personal archives to the Library's William Ready Division of Archives and Research Collections.
More than 150 students, colleagues, friends, and alumni gathered at the University Club to pay tribute to Giroux, a public intellectual, prolific writer and world-renowned educational and cultural theorist, who has spent the last 30 years provoking societal debate on some of society's most pressing and controversial issues.
Giroux's archive – which contains significant insights into his life and work as a scholar and public intellectual – includes manuscripts and articles written or edited by Giroux, as well as books from Giroux's own library that have informed his work.
The collection also contains personal correspondence, including letters from influential philosopher, educator and social theorist, Paulo Friere – a colleague and mentor to Giroux – as well as a number of the many awards Giroux has received throughout his career.
"Henry's archive contains the research materials that have formed the foundation of his published work," says Vivian Lewis, McMaster University Librarian. "The collection is revealing of Henry's incredible life as a public intellectual and, as such, will be of invaluable importance to the researchers, critics, editors, and students from around the world who will visit the archive."
Giroux has written extensively about youth culture, media studies, race studies and the state of public and higher education in the United Sates.
He has authored, or co-authored 63 books, written several hundred scholarly articles, delivered more than 250 public lectures, been a regular contributor to print, television and radio news media outlets, and is the most cited Canadian academic working in any area of Humanities research.
The Giroux archive will be available for researchers to access later this year.
Watch Henry Giroux's lecture, "Trump's America: Rethinking Orwell's 1984 and Huxley's Brave New World":