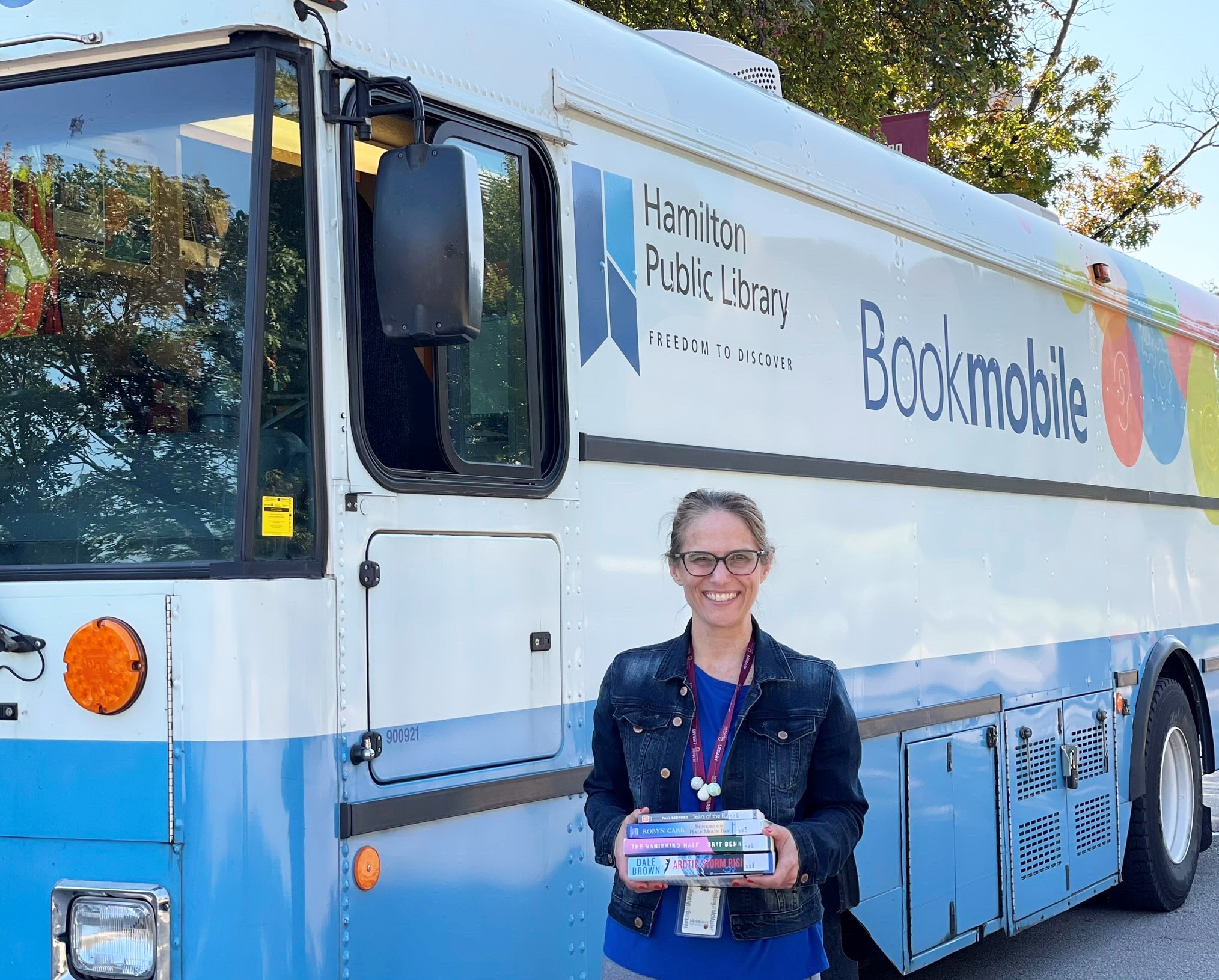 The Bookmobile is a library branch on wheels, and it is rolling up to campus every week. 
It has been a longtime feature of Hamilton Public Library, making stops throughout the city to ensure that all Hamilton residents can enjoy library materials and services.  
Now, McMaster University has been added as one of those neighbourhood stops to reach the important student population on campus every Tuesday afternoon. 
"McMaster University Library is excited to partner with Hamilton Public Library to bring the Bookmobile to campus each week," said Lynne Serviss, associate university librarian, User Services and Community Engagement. "We have received so much positive feedback from McMaster students, in particular, since we launched this initiative."  
McMaster library staff identified a gap between the collection that the library had on campus and the needs of the students, including leisure reading, popular health and wellness materials, and other resources like cookbooks.  
Since the beginning of September, the Bookmobile has received hundreds of visitors on Scholars Road.  
"It has demonstrated that this type of resource is welcome on campus, and that students are taking advantage of this incredible service," said Serviss. 
McMaster library regularly partners with Hamilton Public Library on various initiatives and events to foster community engagement and ongoing connections to the city of Hamilton. 
Cindy Poggiaroni, director, Collections and Program Development at Hamilton Public Library says the Bookmobile stop at campus helps both organizations serve different populations in the community.  
"The McMaster campus Bookmobile visit is one of now 26 sites in Hamilton Public Library's expanding mobile borrowing service. We're thrilled the McMaster community is embracing this service with many touring the bus, signing up for library cards and picking up their holds," said Poggiaroni. 
Students, faculty and staff are welcome to visit the Bookmobile, stationed outside of Mills Memorial Library on Scholars Road, every Tuesday from 2:30 to 4 p.m.  
If patrons are unable to make it to the Bookmobile on Tuesdays, holds can be picked up at Mills Library. Get a Hamilton Public Library card at the Bookmobile or an eCard on the Hamilton Public Library website, making sure to use a McMaster email address when registering, and choosing McMaster Bookmobile as the pick-up location. 
Serviss says she hopes these weekly visits make accessing good reads a little easier for the McMaster campus community.  
"It's not always easy for people to make their way to a local library branch, so I love the idea of bringing the library to them," said Serviss. "I hope the students find this resource helpful, and for some it may bring back a bit of childhood nostalgia to get on that big bus full of books."  
For more information, please visit the Hamilton Public Library's Bookmobile webpage. To find a resource and make a hold, please visit the Hamilton Public Library website and use the search bar.