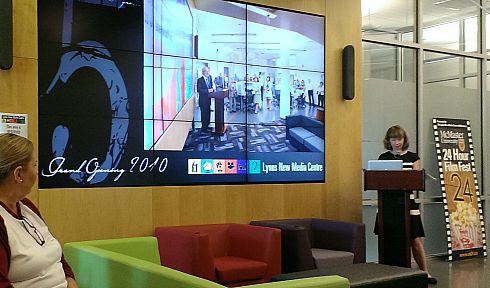 According to University Librarian Vivian Lewis, when the Lyons New Media Centre opened its door five years ago, no oneknew exactly what direction it would take.
Instead, staff were asked to listen to students and faculty and shape services to meet their needs. And that's just what they did.
Five years, a 3D printer, a video game room, and countless pieces of media production technology later, the space has become a hub for learning and creativity.
This week, Library staff and students gathered to celebrate the fifth anniversary of the Lyons New Media Centre.
"This Centre is truly a space designed for the digital generation--a generation that doesn't just want to view media, but to create it," says Lewis.
The Centre was created in 2010 with the support of the Office of the Provost, McMaster University Library, the Faculty of Humanities and through a generous gift made by Margaret and Ed Lyons.
"I would like to thank Margaret and Ed Lyons for their vision in helping to create the extraordinary centre that we're celebrating today--a place of learning and of fun and a place where new ideas come to life." says Lewis.
The space is open to students from all Faculties and includes video and audio editing workstations, two edit suites, a consultation room, a video gaming room, a classroom with a green screen, a service desk and also provides students with access to the latest media production software.
Lewis says these services have made the space one of the most popular areas of the library. Jason Lau, a third year multimedia student, agrees and says he was "blown away" when he first discovered the Lyons New Media Centre.
"I didn't realize there was a space like this on campus where students could learn new technology and just be creative," says Lau. "Technology is such a big part of the learning experience. We're expected to be more creative with our work and make slideshows, power point and videos. So the fact that someone took the time to really invest in the future of our learning experiences has really had an impact."
The Lyons New Media Centre is located on the 4th floor of the Mills Library.