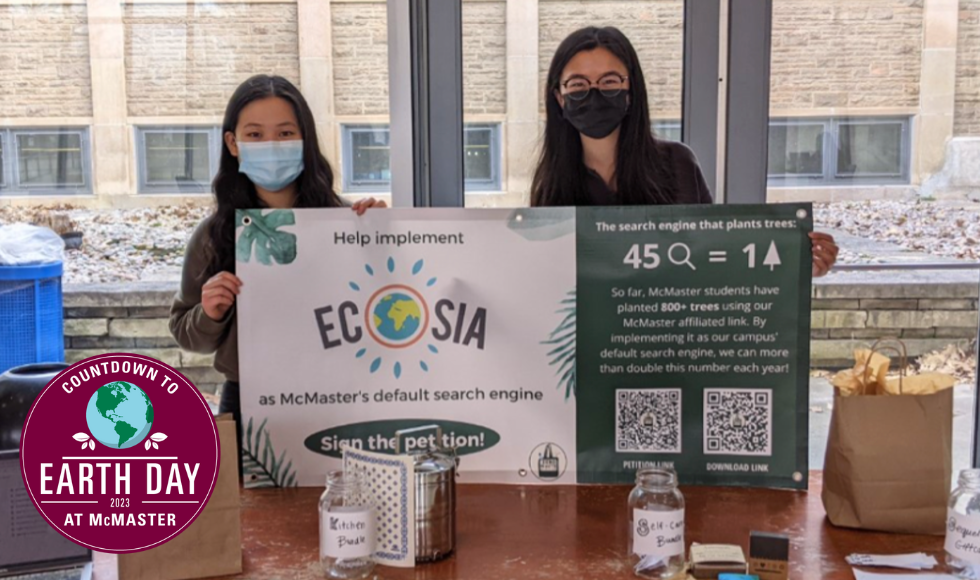 By Kate Whelan, Academic Sustainability Programs
An effort to get McMaster community members to adopt a free search engine that donates its ad revenue to reforestation projects is starting to take root, says a group of students.
The students, members of Zero Waste McMaster — a sustainability-focused student group, have been promoting and encouraging the use of the browser extension Ecosia. For every 45 searches, approximately one tree is planted, according to the search engine.
"We partnered with Ecosia on a McMaster-specific link for people to access the platform and contribute to the total number of trees planted by McMaster students, staff, and faculty," said Tina Wu, Zero Waste McMaster executive member. "In two years, we've collectively planted over 1200 trees and counting."
Wu has driven forward the initiative alongside fellow executive members Nelly Chisom Okqu-Wolu and Paris Liu.
This winter, Zero Waste McMaster teamed up with sustainability students from Sustain 2SS3 – Advocating for Sustainability, project mentors from University Technology Services, and McMaster University Library to pilot using Ecosia as the default web browser on 170 public-facing computers in Mills Memorial Library.
"We're here to support students using our spaces as a living laboratory and for all kinds of learning," said Lynne Serviss, associate university librarian of User Services and Community Engagement at McMaster library. "We also strive to support sustainability in our spaces to have a positive impact on campus and beyond, so this initiative aligns with that work."
To gather student feedback, the Sustain 2SS3 student team hosted a booth in Mills library on March 29 where passersby could try using Ecosia and provide their feedback through an anonymous survey.
Feedback from 55 respondents was overwhelmingly positive with 46 people, with some respondents reporting Ecosia was user-friendly and that they hope it gets implemented at McMaster, reported Sonia Singh, a science student and member of the Sustain 2SS3 student team.
"None of the responses were really negative, with the remaining nine responses comparing the newness of Ecosia to their familiarity of Google," said Singh. "It makes us confident that Ecosia is a good choice for McMaster and will enable students to contribute to a more sustainable environment just by searching the internet."
Singh and members of the interdisciplinary team, Ableen Dhillon (social sciences), Cecilia Fang (science), Mishal Amer (humanities), and Sandy Sun (business) presented their final project at their course symposium on April 6.
"We were proud to share the results of our collaborative project, and it feels good to have made positive and lasting impact on our school, our student colleagues, and the environment," said Singh.
Paris Liu, co-president of Zero Waste McMaster added: "I've seen our efforts advocating for Ecosia for the past two years grow from just a social media campaign to information booths to garner support for it being the default search engine on campus, and now to full implementation at Mills library. We look forward to expanding the use of Ecosia on campus in the years to come so that McMaster can work towards being the first Canadian university to adopt Ecosia as their default search engine, alongside other world-renowned universities like the University of Leeds and the University of Bristol."
Visit a McMaster library to try out Ecosia, which will continue to be the default browser moving forward. To download Ecosia on your personal computer and contribute to our McMaster community's tree count, visit the Ecosia website. Happy planting!
Helpful links
Zero Waste McMaster Instagram Account