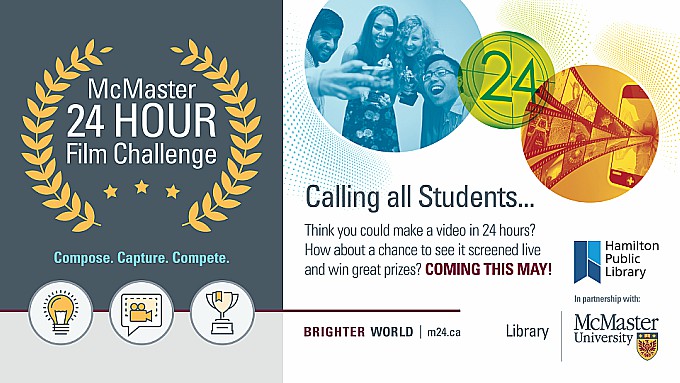 Attention aspiring filmmakers! Do you love making films in your spare time? Have you ever wanted to try your hand at filmmaking, but never had the opportunity?
If so, register today for the McMaster 24 Hour Film Challenge, presented by McMaster Library's Lyons New Media Centre.*  You'll learn how to make a film on a tight timeline, have the chance to work with good friends and, at the end of the day, be able to look back on your finished product and say, "yep, I made that!"
HOW DOES M24 WORK?
On Friday May 11@ 4:00 p.m., registered teams will gather for a kick-off eventon the 4thFloor of  Central Branch of the Hamilton Public Library (55 York Boulevard). Can't make it? The kick-off will also be livestreamed on M24.ca
Teams need to register before the kick-off event. Register now
All teams will be assigned the same prop, a line of dialogue and a location– all elements that must be incorporated into each film. These elements will be revealed at the kick-off.
Teams will then have 24 hours to write, shoot and edit a film that is five minutes or less.
The top 10 films will be screened at a gala event on Friday May 25, 2018,  which will be held in the Performance Hall of L.R. Wilson Hall, on McMaster's campus. The top three films will be awarded prizes.
Free online workshops are available on the M24 website to help teams with everything from how to tell a great story and how to edit and output your 'baby' in time for the cut-off.
Registration is open to McMaster students, alumni and Hamilton area high school students.
*Lyons New Media Centre is a space for the innovative creation and use of new and traditional media in teaching, learning and research.