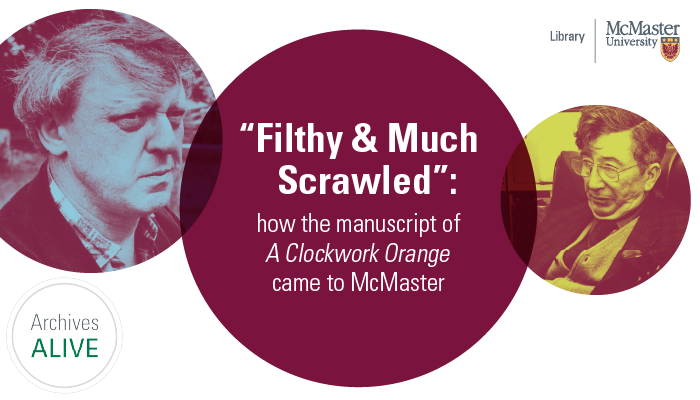 Carefully stored in the William Ready Division of Archives and Research Collections at McMaster University Library is the earliest version of Anthony Burgess' 1962 novel, A Clockwork Orange, one of the most famous and infamous novels of the 20th century.
But how did it land at McMaster?
The latest edition of the Archives Alive series welcomes audiences to an in-person presentation to share the fascinating story of this rare acquisition.
"Filthy & Much Scrawled": How the manuscript of A Clockwork Orange came to McMaster, is set for Nov. 24, 2022, at 5:30 p.m., at Mills Memorial Library.
"I've long been curious about how we ended up with such an iconic manuscript," said presenter Rick Stapleton, head of the William Ready Division of Archives and Research Collections. "Our closure during the pandemic finally gave me the opportunity to look into the story in more detail."
Written in the early 1960s, A Clockwork Orange did not become well-known until after the 1971 release of Stanley Kubrick's film version. Four years before the film release, William Ready, McMaster University Librarian, had the foresight to acquire the manuscript of the novel from Burgess for deposit in the University library.
Stapleton's presentation—the first in-person Archives Alive event since before the pandemic—will delve into the background of this acquisition, with pages from the manuscript itself available for viewing by those in attendance.
"The story of this acquisition is really the story of the relationship between Burgess and Ready, who were of very similar backgrounds and sensibilities," said Stapleton. "Those who are fans of the book or the film, or who are curious about how libraries collect manuscripts, will be interested in this event."
Stapleton has been at McMaster University Library since 2007 and is now head of the Archives and Research Collections. Prior to McMaster, he has held positions with the University of Toronto Archives, the Archives of Ontario, and the United Church of Canada Archives.
All are welcome to attend the free event held in the Lewis and Ruth Sherman Centre for Digital Scholarship on the main floor of Mills library. Attendance is limited to 50 people, so advance registration is required.
Register for the Nov. 24 Archives Alive presentation.
Archives Alive showcases the unique holdings of McMaster University Library's William Ready Division of Archives and Research Collections. A wealth of resources exist which will delight and inform, from rare books created before 1800 to contemporary writers' archives. Recognizing that archives can feel intimidating, these talks allow staff and researchers to share their knowledge with the community and introduce collection items housed within the library. Archives Alive is presented by McMaster University Library and McMaster Alumni.