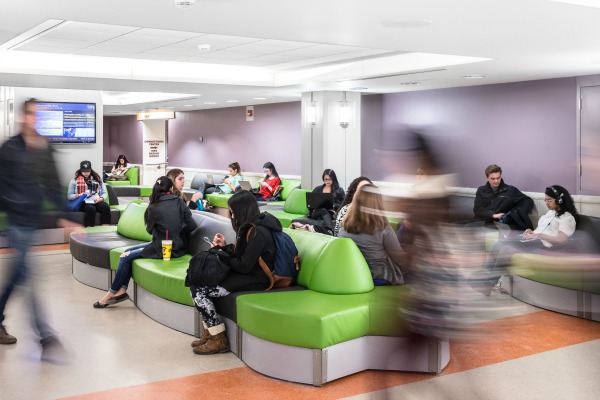 McMaster University Library has countless resources to help students at any time of year, but during the exam period when stress levels soar and students are studying feverishly, Mills, Innis and Thode Libraries have lots of services that can help make this hectic time a bit easier.
1. Trouble focusing? There's an app for that!
Relax, learn to manage your stress, and improve your ability to focus with Muse brain-sensing headbands. Using seven sensors to detect and measure brain activity and Bluetooth to send this information to the free Muse app, the headbands provide a one-of-a-kind interactive meditating experience. Muse provides feedback on your meditation by translating your brain signals into the sights and sounds of wind, which are stormy when the mind is active and settled when the mind is calm. The app reports on your session and progress, adjusts your goals, and challenges you to remain calm for increasing lengths of time. Visit the Library Services Desk in Mills, Thode or Innis Libraries to borrow the headbands for up to a week.
2. Forgot your headphones?
You're all set up for an intense study session at the library, and realize that you forgot your headphones! You can still enjoy your favourite study playlist by borrowing headphones for four hours at a time from the Service Desk in Mills, Innis or Thode Libraries with your library card.
3. Banish stress at the Lyons New Media Centre 
What could be more relaxing than origami? Visit the desk at the Lyons New Media Centre for fun and creative ways to relieve your stress. Ask for origami paper and start folding away. Check out some pencil crayons and grab a colouring sheet. Handicrafts more your style? Sign out some yarn and needles and knit for a spell.
4. Food or drink, anyone?
Vending machines with snacks and beverages are now available and being stocked in Mills, Innis and Thode libraries.
5. Just add a cute dog
Liam the Library dog is a certified therapy dog who loves attention from students! Visit with Liam on April 20. Liam will be in Innis Library at 11:00 – 11:30, Mills Library from 1:00 p.m. – 2:00 p.m., and Thode Library from 3:00 p.m. – 3:30 p.m.
6. Innis Library De-Stress Zone 
Take a break in the Innis Library De-Stress Zone, which includes range of activities and treats to help you decompress including colouring materials, puzzles, cookies and apples. Be sure to participate in our contest to win a prize!
7. Thode Library Stress Busters 
Visit Thode Library throughout the exam period and de-stress with puzzles, colouring and games.
8. Past Exams
The Library has a range of past exams from Humanities, Social Sciences, Business, Commerce Engineering and Science courses that can help you be more prepared. Find exams here.
9. Read...for fun!
Need a break from study notes and text books? Visit the Hamilton Public Library Open Library, located next to the Mills Services desk.  The Open Library is a donated collection of popular reads and magazines from Hamilton Public Library.  Students are welcome to select a book to read. No need to bring the book back, it's yours to keep or to share.
10. Ssshh!!
Quiet study can be found in the following spaces:
6th floor of Mills Library – silent study
Area on 4th floor of Mills Library (down the ramp on the west side)
All areas on 3rd and 4th floors of Mills Library

Silent late night study in Innis Library, Mon-Thurs, 11:00 p.m. – 2:45 a.m.

Lower level of Thode Library, as well as a small silent study room also in the lower level

NEW THIS TERM –Quiet study in Mills Connections Centre, 1st floor (evenings and weekends)
Find out more information about study spaces in McMaster libraries.
Library Hours for the exam period are as follows:
Staring April 7, Mills Library will be open Monday to Friday from 8:00 a.m. to 10:45 p.m., Saturday 10:30 a.m. to 10:45 p.m., Sunday noon to 10:45 p.m. The Learning Commons will be open 24 hours a day, seven days a week.
From April 7 –April 26, Thode Library will be open 24 hours a day, seven days a week; The Reactor Cafe will be open from 10:00 a.m.– 11:00 p.m.
Starting April 7, Innis Library will be open from 8:30 a.m. – 2:45 a.m., Mon–Thurs, Friday 8:30 a.m. - 10:45 p.m., Sat. 10:30 a.m. – 5:45 p.m., Sun. 1:00 p.m.– 7:45pm
The Libraries will also be open extended hours on Good Friday.