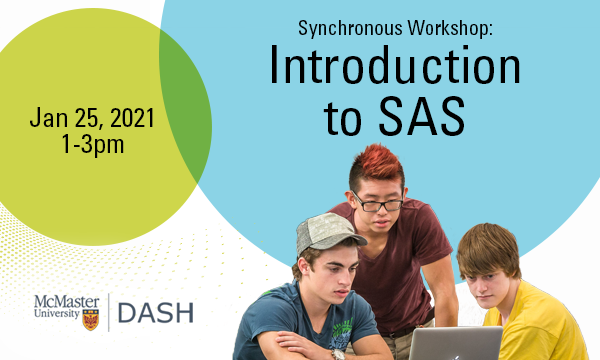 Date/Time
Jan 25, 2021
1:00 PM TO 3:00 PM
This beginner-level workshop will introduce you to the basics of SAS statistical software. The items covered in this workshop will teach you how the software works by navigating through the different windows, working with sample data to generate beginner-level descriptive statistics and basic statistical procedures. No prior knowledge of SAS is required.
This workshop consists of a synchronous workshop session, which will be recorded and shared publicly afterward. 
CODE OF CONDUCT
The DASH program and the McMaster University Library are committed to fostering a supportive and inclusive environment for its presenters and participants. As a participant in this session, you agree to support and help cultivate an experience that is collaborative, respectful, and inclusive, as well as free of harassment, discrimination, and oppression. We reserve the right to remove participants who exhibit harassing, malicious, or persistently disruptive behavior. Please refer to our code of conduct webpage for more information.
More information/Registration Details