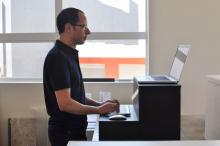 Oristand Portable Standing Desk
From the Oristand Website:
Oristand is a standing desk converter, meaning it's not a desk itself – it's an object you place on top of your existing desk or table, transforming it into a stand-up desk. 
Oristand is made of uncoated cardboard to keep it environmentally friendly and affordable. If a spill does occur, wipe it off quickly, then let the cardboard dry completely before using it again. 
Oristand has been designed to support the weight of any laptop and keyboard providing you use it on a flat and level surface. Oristand can withstand average weights of around 60 lbs (27 kgs). Use your discretion and do what feels most comfortable to you!
A single Oristand weighs 2 lbs (0.9 kg).