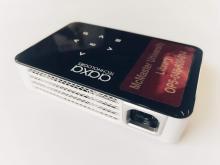 May be used outside of the libraries. Adapters are available for loan at the library service desks. 
aaxa Technologies P300neo LED Pico Projector (Mills, Innis, Thode)
420 LED Lumens
1280x720 visuals
Input options : USB port, micro SD Card slot, digital HDMI and composite video inputs, a 3.5mm headphone jack
1-watt speaker
Controlled by a mini infrared remote control.
Mini tripod
5.4" x 3.4" x 1.18"
ASUS P2E LED Projector (Thode)
350 lumens-rated  
1280 x 800 visuals
Input options: HDMI/MHL, mini VGA, headphone jack
Speaker
Short throw projection for 42–inch images from just 1 meter
5.6" x 1.4" x 5.1"
EPSON H381A Powerlite 92 LED Projector (Thode)
2400 lumens
Input : HDMI
1024 x 768 (XGA)
16 W speaker