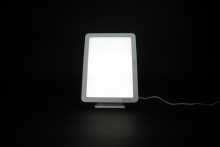 Beat those winter blues. Recommended use: 30 minutes.
Bright light exposure of up to 10,000 LUX can help improve your mood, focus and energy levels, intensity at 7 inches distance
Full spectrum white or blue, UV free light, naturally helps beat the winter blues.
Customize your session of light intensity, blue or white light color, and 5 to 30 minute timer.
Compact size with adjustable tilt for easy use and includes a convenient USB to charge your phone. Portable enough to take to the office.
LED technology eliminates the need to buy or change light bulbs.