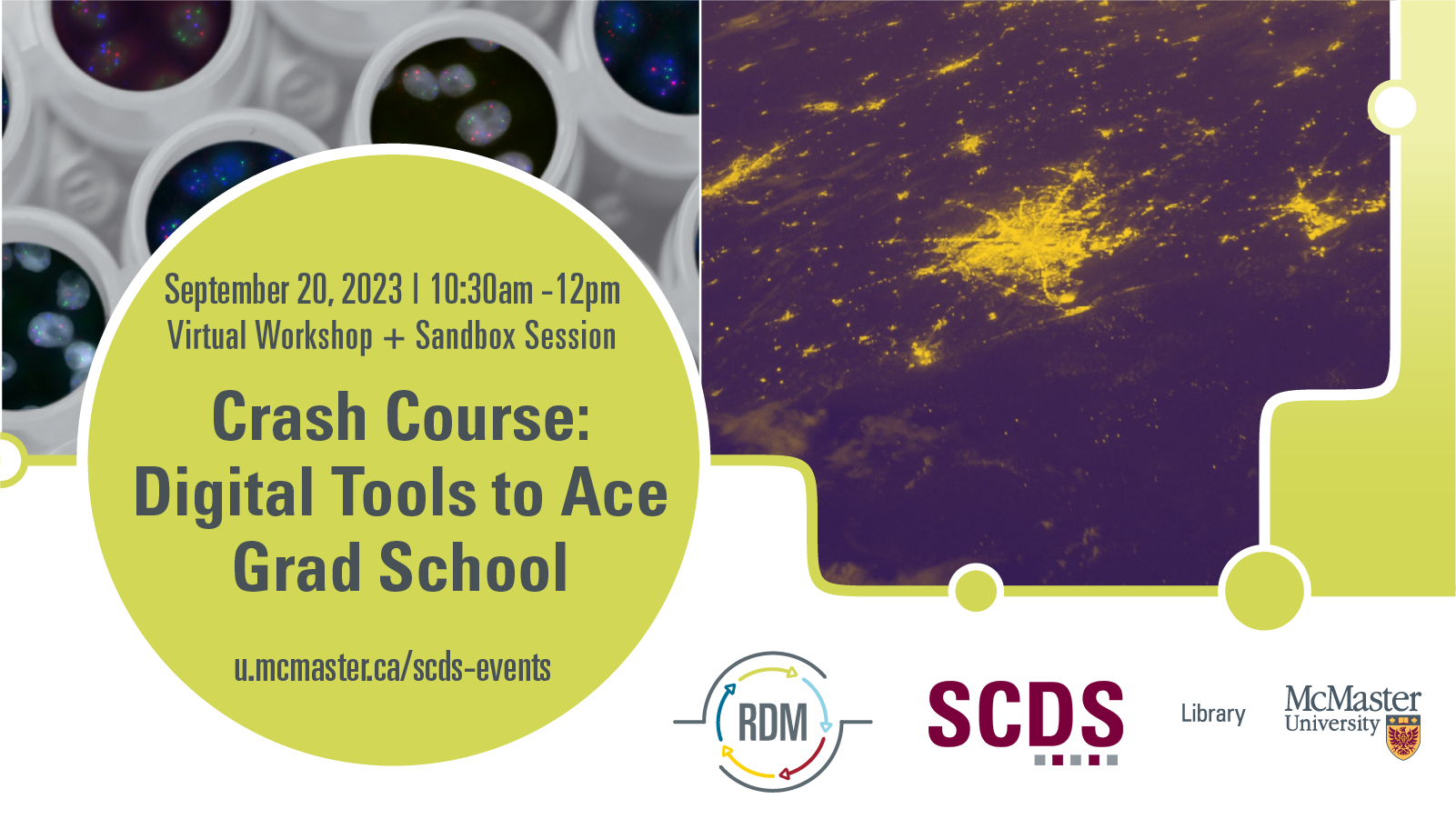 Date/Time
September 20, 2023 10:30 AM to 12:00 PM
Start your research off on the right track using digital tools. In this session Jeff Demaine (Bibliometrics Librarian) and Isaac Pratt (Research Data Management Specialist) will introduce you to research impact and research data management tools you can use to organize your research and create a researcher profile.
Your profile as a researcher should be a story that you create. Learn how to distinguish yourself from other researchers using a free ORCiD account that will automatically showcase all your academic activities.
Learn how to organize and document your data to save time and make your life easier. Follow a few simple tips to keep your data safe and securely store your research data so your thesis isn't taken down by a hard drive failure.
Details: This virtual workshop will be recorded. The recording will be posted to the Sherman Centre's Online Learning Catalogue.
Facilitator Bios: Jeffrey Demaine (he/him) is McMaster University Library's Bibliometrics and Research Impact Librarian. He worked for a dozen years at the National Research Council, as a researcher in a German think-tank, and as the Bibliometrics librarian at the University of Waterloo. His recent publications reveal forgotten "Sleeping Beauty" articles, the changing gender distribution of Canadian researchers, and the effect of increased collaborations on the research impact of universities around the world. Beyond simply counting citations, Jeffrey parses the metadata of academic publications, examines the changing structure of science, and reveals the patterns that underly the work of McMaster's researchers. He also co-organizes a Canadian conference on Bibliometrics. Email Jeff at demainj@mcmaster.ca.
Isaac Pratt (he/him) is McMaster's Research Data Management Specialist. A research scientist by training, he has a PhD in Anatomy & Cell Biology. He leverages nearly a decade of interdisciplinary research experience to help support students, staff, and faculty. His expertise lies in questions surrounding data storage, security, planning, archival, and sharing. Isaac also provides support and curation services for McMaster Dataverse. His other interests include reproducible research methods, open science, and data science. Email Isaac at pratti@mcmaster.ca.
More information
More information/Registration Details