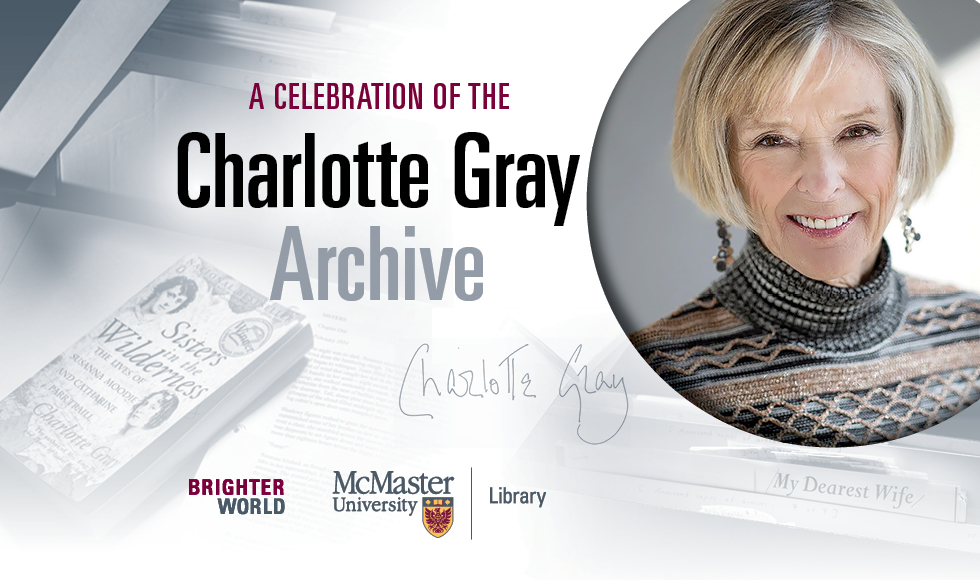 Date/Time
June 8, 2023
11:00 AM to 02:00 PM

Join us for high tea to celebrate the Charlotte Gray Archive. This free event takes place at the Art Gallery of Hamilton, conveniently located in downtown Hamilton. The midday celebration will feature a book reading by Charlotte, items from her archive from McMaster University Library, and a book signing. Books will be available for purchase online prior to the event and on site. Admission to the Art Gallery of Hamilton is included.
11:00 a.m. Doors Open

11:30 a.m. Gift Announcement & Reading

12:00 p.m. High Tea (complimentary with the event)

1:00 p.m. Reception & Book Signing
About Charlotte Gray
Charlotte Gray is one of Canada's best-known writers, and author of eleven acclaimed books of literary non-fiction. Born in Sheffield, England, and educated at Oxford University and the London School of Economics, she began her writing career in England as a magazine editor and newspaper columnist. After coming to Canada in 1979, she worked as a political commentator, book reviewer and magazine columnist before she turned to biography and popular history. Charlotte's latest book is Murdered Midas; A Millionaire, His Goldmine and a Strange Death on an Island Paradise, a biography of the Canadian mine owner Sir Harry Oakes. Charlotte lives in Ottawa with her husband George Anderson, and has three sons. 
More information/Registration Details