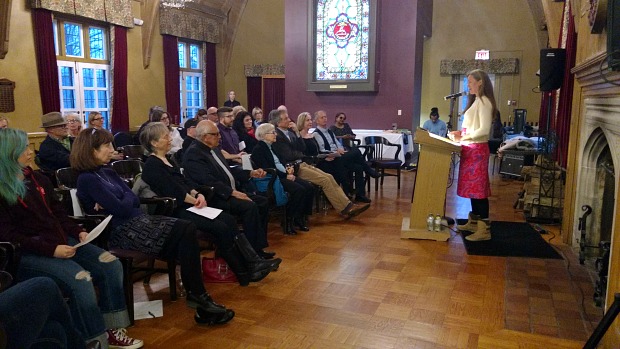 Aspiring writers who have been working one-on-one with McMaster's Writer-in-Residence gathered recently to give readings of their work –  some reading publicly for the first time – at a special event hosted by McMaster University Library.
The event was intended to showcase the work of novice authors from the McMaster community and from the Hamilton region who have spent the past several months honing their craft with the guidance of Christine Pounteny, the 2016-17 Mabel Pugh Taylor Writer-in-Residence, a program co-sponsored by McMaster's Department of English and Cultural Studies and the Hamilton Public Library, (HPL).
12 writers, including Pounteny, read before an audience of friends and family, faculty, and community partners who gathered for the event, which was held in partnership with McMaster's Department of English and Cultural Studies and HPL. The writers were accompanied by guitarist Niranjan Gundu who created the musical soundscape for each reading.
"McMaster University Library is honoured to be involved with the Writer-in-Residence program as a testament to our support for Canadian literature," says Vivian Lewis, McMaster University Librarian who spoke at the event. "Capturing the power of the written word is something we feel very passionate about. We are pleased to showcase these apprentice authors and provide them with a platform to share their work publicly."
During her residency, Pountney split her time between campus and the Central Branch of the HPL, holding more than 150 consultations with apprentice authors in both locations to provide mentorship and feedback, or simply talk about the writing process.
"Working with Christine was a Godsend for me," says aspiring Burlington author Charlene Walker Arnold who read her work during the event. "She is such a professional and she looks at your work with true interest. It's so wonderful that there's a program with someone like her to help beginner writers."
Now in its eighteenth year, the Writer-in Residence program is made possible through a generous contribution by the Taylor family and by funds from the Faculty of Humanities and the Canada Council for the Arts.
A number of acclaimed Canadian authors have served as McMaster's Writers-in-Residence including Lawrence Hill, author of the Book of Negros, and André Alexis who recently won CBC's Canada Reads competition for his book Fifteen Dogs, which he was working on during his residency.
Christine Pountney will continue to hold hours at McMaster on Tuesdays and Thursdays, in CNH 312 until the end of April 2017. 
To contact Christine, email englwir@mcmaster.ca.