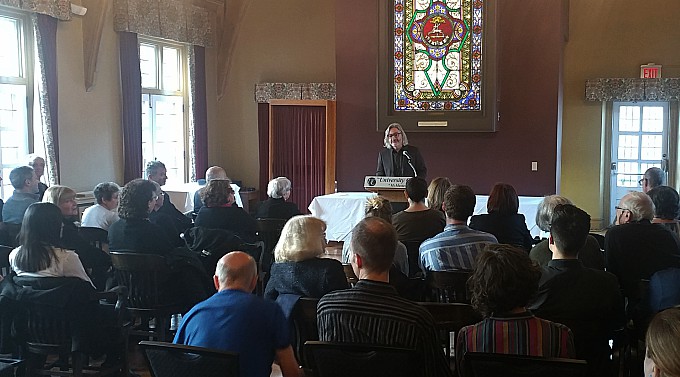 Award-winning author and humourist Gary Barwin's favourite piece of writing advice comes from the ever-quotable, Elmore Leonard who wrote, "Leave out the parts that readers tend to skip."
For the past several months, Barwin, a finalist for the 2016 Giller Prize, has been offering advice of his own as the Mabel Pugh Taylor Writer-in-Residence, working one-on-one with aspiring authors from the McMaster and Hamilton communities to help them hone their craft and guide them through the writing process.
Recently, a number of these writers gathered on campus to share their work with family, friends, faculty and community members at a special event, hosted by McMaster University Library, in partnership with McMaster's Department of English and Cultural Studies and the Hamilton Public Library(HPL).
Twelve writers gave readings of their work – some reading publicly for the first time. Works included excerpts of novels and short stories, poetry, and even literary translations.
"We are pleased to support the Writer-in-Residence program and to shine a light on these aspiring writers," says Vivian Lewis, McMaster University Librarian. "This event is a wonderful opportunity to support writers who are at the beginning of their careers, to provide them with a platform to share their work, and to help them form connections with the local writing community on campus and across Hamilton."
During his residency, Barwin – a writer, composer, multidisciplinary artist and author of 21 books of fiction and poetry – split his time between campus and the Central Branch of the HPL, holding more than 200 consultations with apprentice authors to share his experiences and provide mentorship and feedback.
Ben Robinson, a recent graduate of McMaster's English and Cultural Studies Program worked with Barwin during his residency.
"The experience has been amazing," says Robinson who gave a reading of his poetry at the event. In the audience to support him were three generations of his family – all of them McMaster alumni.
"It's amazing to have the time and attention of a writer like Gary, he continues. "I can't imagine what you would have to pay for that, but to have a program like this available – for a young writer, it's the best program you could imagine."
"It's been a really great experience," agrees Jeff Druery who read an excerpt of his novel at the event. "Gary gives really precise feedback. He's very encouraging, but he's also able to say this is the part that didn't quite work for me or didn't quite resonate, and here are some things to consider or options to make it better."
Now in its nineteenth year, the Writer-in Residence program is made possible through a generous contribution by the Taylor family and is co-sponsored by McMaster's Department of English and Cultural Studies and the Hamilton Public Library,(HPL)
A number of acclaimed Canadian authors have served as McMaster's Writers-in-Residence including Lawrence Hill, author of the Book of Negros, and André Alexis, a winner of CBC's Canada Reads competition for his book Fifteen Dogs, which he was working on during his residency.