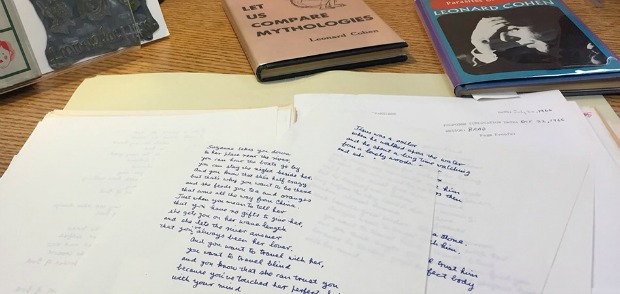 The early writing life of one of Canada's most celebrated poets, novelists and lyricists, Leonard Cohen, is laid out in hundreds of pages of correspondence and manuscripts stored carefully at McMaster's Mills Memorial Library.
There, in Cohen's own neat hand, for example, is the final copy of Suzanne, the poem that would be published in 1966 and later become one of his most popular songs. 
Cohen's death at age 82 was announced Nov. 10. The news resonated with Lorraine York, a professor in McMaster's Department of English and Cultural Studies who teaches Cohen's works.
"As we come to the end of a tumultuous week, Leonard Cohen has slipped away, his death itself also seeming to be a meaningful, graceful exit from a world in turmoil. Poet-philosopher, prophet, provocateur: he brought us such riches from the Tower of Song," York said in a statement.
McMaster's William Ready Division of Archives and Research Collections is home to the largest and most varied collections of archives on Canadian publishing anywhere. They include years' worth of running commentary between Cohen and his publisher Jack McClelland, starting in 1960, a fertile period when both were making indelible marks on the world of letters. 
McClelland was taking Canadian literature to the world stage, while Cohen was coming into his period of greatest productivity, when he lived in Greece with his girlfriend and muse, Marianne Ihlen. 
Sometimes pointed, occasionally profane, but mainly sarcastic and playful, Cohen and McClelland's exchanges – letters, postcards and telegrams – featured fights over book titles, finances, jacket blurbs, and life's events, all peppered with inside jokes.
Cohen, after jousting with his publisher over the presentation of the poetry collection Flowers for Hitler, ends a letter to McClelland this way: "Enjoy your authoritarian life," and signs off: "Goodbye forever, Leonard Cohen, The Jewish Keats."
Archives and rare books librarian Myron Groover says the Cohen-McClelland papers are popular with scholars and fans alike, offering an intimate look at the writer's life.
"They give real insight into Cohen's thought process, and his process as an artist, "Groover says. "He's really emerging as a self-confident, occasionally petulant, Canadian writer. This is really Cohen as he's discovering the full strength of his powers as a writer."