Author:
Produced jointly by METI (Japan) and NASA (U.S.A.)
Sample: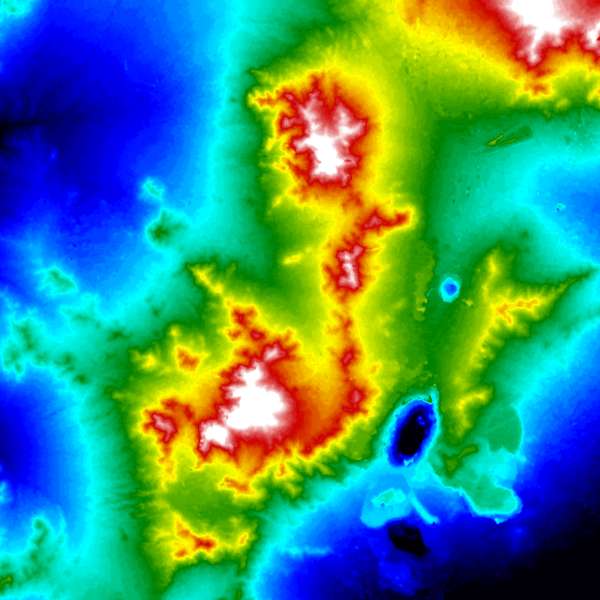 Format:
1 degree x 1 degree tiles in GeoTIFF format
Projection:
Unprojected Latitude & Longitude
File Size:
Each tile is approximately 25 MB
Abstract:
The Advanced Spaceborne Thermal Emission and Reflection Radiometer (ASTER) Global
Digital Elevation Model (GDEM) was developed jointly by the Ministry of Economy, Trade,
and Industry (METI) of Japan and the United States National Aeronautics and Space
Administration (NASA). The ASTER GDEM was contributed by METI and NASA to the
Global Earth Observation System of Systems (GEOSS) and is available at no charge to users
via electronic download from the Earth Remote Sensing Data Analysis Center (ERSDAC)
of Japan and NASA's Land Processes Distributed Active Archive Center (LP DAAC).
The ASTER GDEM covers land surfaces between 83°N and 83°S and is comprised of
22,600 1°-by-1° tiles. Tiles that contain at least 0.01% land area are included. The
ASTER GDEM is in GeoTIFF format with geographic lat/long coordinates and a 1 arcsecond
(approximately 30 m) grid. It is referenced to the WGS84/EGM96 geoid. Table
1 summarizes the basic characteristics of the ASTER GDEM. Pre-production estimated
(but not guaranteed) accuracies for this global product were 20 m at 95 % confidence for
vertical data and 30 m at 95 % confidence for horizontal data.
How to Cite This:
Citation format: Author (Publication Date), Collection Name, Image Name, Product Coverage Date.
Author: NASA and Japan ASTER Program
Publication Date: {specify processing date as in metadata}
Collection Name: ASTER scene
Image Name: {specify scene name here}
Product Coverage Date: {specify acquisition date as in metadata}
File Location:
A data demo is available in the map collection at H:\GIS\Data\World\ASTER_DEM\demo.mxd