Mills
McMaster University Library moves to a new
McMaster University Libraries was one of the first Ontario University libraries to launch GET IT! last fall.
This exciting new service works with the Library's e-Article Databases to provide a seamless link from a citation to the full-text of an article.
Using GET IT!
1. Search your topic in a database
2. Look for - then click on - the GET IT! button:

3. A menu will appear with your citation on the top and your GET IT! options beneath: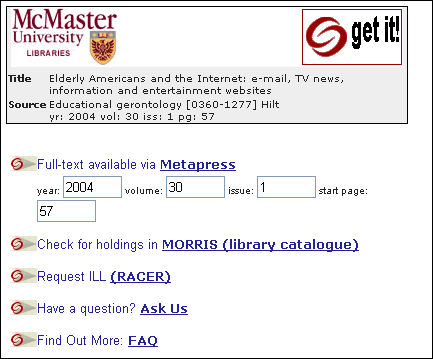 4.GET IT! (Find the Article)

full-text available..."

click right through to the article

if no full-text link appears, click on MORRIS to:
find a call number for a paper subscription
or a link to the e-subscription if it's one not yet activated in GET IT!

if it's not available @ Mac, request an ILL via RACER
Further Development
Over the fall library staff worked diligently towards activating our 12,500 e-journal & database subscriptions to make GET IT! fully functional. Currently, all of Health Science Library's e-journal subscriptions are activated, and approximately 75% of Mills, Innis & Thode's subscriptions are completed.
There will be some e-article databases for which it will not be possible to provide a GET IT! button. Check out our FAQ page - some of your questions may be answered there!
MarketResearch.com Academic offers the full text of hundreds of market research reports--reports originally commissioned by corporate clients and authored by marketing research companies. Roughly two-thirds of the content describes the U.S. market while the remainder is derived from non-U.S. market research studies. The publication dates range from 1996 to the present.
Euromonitor's Market Resarch Monitor is now available through the Library. Market Research Monitor offers over 2,000 top-line market research reports on international consumer, industrial and service markets. Reports offer up-to-date market size data, company shares, brand shares, and forecasts.
Google's new search service, Google Scholar, has generated considerable interest among academics including scientists, academic researchers, librarians and students.
The new Cambridge Scientific Abstracts Illumina interface is now available.
CSA Illumina features a totally re-designed user interface as well as enhanced search capabilities. Other enhancements include:
Easier to use "Quick Search"
Improved navigation
Improved integration of help files
Online tutorials
New custom default options
Multi-language interface options
Search Tools including Combined Search
Dynamic de-duplication of records with show/hide duplicates option
Hyper-linked descriptor terms for quick execution of new search queries
QuikBib bibliography creator
Improved linking capabilities
More than one hundred bibliographic and full-text databases published by CSA and its publishing partners are available through the service. Notable examples include CSA Ageline, CSA EconLit, CSA ERIC, CAS PAIS International, CSA Sociological Abstracts, the SAGE Full-Text Collections, CSA Materials Research Database with METADEX, CSA World Poltical Science Abstracts.
The ICPSR (Inter-university Consortium for Political and Social Research) web site and telephones will be unavailable on Dec. 27-28 as the voice and data lines that supply the Perry Building will be moved as part of the Perry Extension construction project.
Scholars Portal will be increasing storage capacity on the storage area network the OCUL servers use for data, but will need to schedule downtime to do this work. This process will start at 8:30am on December 26th and will last from 6 to 8 hours. During this time all journals accessed through ScholarsPortal, SFX (Get It!), Web of Knowledge, and the preview site for CSA Illumina will be unavailable.
Due to server maintenance, the "Get it!" button on library e-Resources will be unavailable on December 19th from 11:00 pm to 1:00 am. We apologize for the inconvenience.
Pages