Mills
The Library is pleased to announce it has purchased an additional backfile for all Elsevier journals. WIth this acquisition, McMaster students and faculty now have access to a full 10-years (1995 to present) of Elsevier journals online.
This one-time purchase has been funded largely as a result of the lower cost of US subscription renewals due to the current strength of the Canadian dollar, and not at the expense of other library acquisitions.
Access to the Johns Hopkins Guide to Literary Theory & Criticism has been suspended temporarily. The database is searchable, but users are not permitted to view full-text articles. A notice will be posted once access has been restored.
Access has been restored (1/12/05)
The Birds of North America (BNA) is only the fourth comprehensive reference covering the life histories of North American birds. This series provides detailed scientific information (18 volumes, 18,000 pages in total) for each of the 716 species of birds nesting in the USA and Canada. The print version of BNA was completed in 2002, a joint 10 year project of the American Ornithologists' Union, the Cornell Lab of Ornithology, and the Academy of Natural Sciences.

We have been informed that online access to journal titles published by Kluwer has temporarily been suspended. It is anticipated that access will be restored tomorrow (Jan 8th), or Sunday (9th) at the latest. We will post an update once this has happened.
Update: access is expected to be restored by January 11th.
Update: Access has been restored (Jan 11th). Please report any access problems to Anne Pottier.
McMaster University Library moves to a new
McMaster University Libraries was one of the first Ontario University libraries to launch GET IT! last fall.
This exciting new service works with the Library's e-Article Databases to provide a seamless link from a citation to the full-text of an article.
Using GET IT!
1. Search your topic in a database
2. Look for - then click on - the GET IT! button:

3. A menu will appear with your citation on the top and your GET IT! options beneath: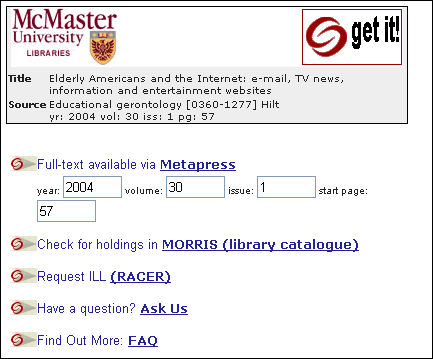 4.GET IT! (Find the Article)

full-text available..."

click right through to the article

if no full-text link appears, click on MORRIS to:
find a call number for a paper subscription
or a link to the e-subscription if it's one not yet activated in GET IT!

if it's not available @ Mac, request an ILL via RACER
Further Development
Over the fall library staff worked diligently towards activating our 12,500 e-journal & database subscriptions to make GET IT! fully functional. Currently, all of Health Science Library's e-journal subscriptions are activated, and approximately 75% of Mills, Innis & Thode's subscriptions are completed.
There will be some e-article databases for which it will not be possible to provide a GET IT! button. Check out our FAQ page - some of your questions may be answered there!
MarketResearch.com Academic offers the full text of hundreds of market research reports--reports originally commissioned by corporate clients and authored by marketing research companies. Roughly two-thirds of the content describes the U.S. market while the remainder is derived from non-U.S. market research studies. The publication dates range from 1996 to the present.
Euromonitor's Market Resarch Monitor is now available through the Library. Market Research Monitor offers over 2,000 top-line market research reports on international consumer, industrial and service markets. Reports offer up-to-date market size data, company shares, brand shares, and forecasts.
Google's new search service, Google Scholar, has generated considerable interest among academics including scientists, academic researchers, librarians and students.
The new Cambridge Scientific Abstracts Illumina interface is now available.
CSA Illumina features a totally re-designed user interface as well as enhanced search capabilities. Other enhancements include:
Easier to use "Quick Search"
Improved navigation
Improved integration of help files
Online tutorials
New custom default options
Multi-language interface options
Search Tools including Combined Search
Dynamic de-duplication of records with show/hide duplicates option
Hyper-linked descriptor terms for quick execution of new search queries
QuikBib bibliography creator
Improved linking capabilities
More than one hundred bibliographic and full-text databases published by CSA and its publishing partners are available through the service. Notable examples include CSA Ageline, CSA EconLit, CSA ERIC, CAS PAIS International, CSA Sociological Abstracts, the SAGE Full-Text Collections, CSA Materials Research Database with METADEX, CSA World Poltical Science Abstracts.
Pages